By Ochereome Nnanna
The Chairman of the Victim Support Fund (VSF), retired General Theophilus Danjuma last week told newsmen that the summit will be held on December 7th 2015 in Abuja.
The Federal Government also unfolded what it called the "North East Marshall Plan" (NEMAP), which immediate and long term programme funding is expected to gulp over N200 billion. This fund will be provided from the national treasury, along with assistance that will be provided by international support groups. So, what we are looking at is more of an international collaboration to bring the North East back to its feet when the Boko Haram virus has effectively removed from national anatomy.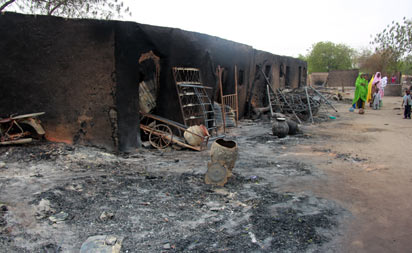 Even though a similar programme loudly proclaimed after the Biafra-Nigeria war was nothing more than a mere empty propaganda, I am genuinely gratified to know that the North East will not be abandoned to its own fate when the war ends. The North East is fortunate that the nation is not prosecuting the war against Boko Haram with the same sense of sectional revanchist venom and false magnanimity that largely ruled the post-civil war efforts. The nation is suffused with genuine empathy towards a part of it that has been overrun by its own evil sons and daughters feeding on a devilish religious ideology spawned in the dark recesses of the Middle East. Mindless orgies of killing of everyone in sight by Islamist insurgents have led to the death of over 20,000 Nigerians and the uprooting of more than two million innocent citizens from their communities and homes.
As we prepare for this conference, there are certain truths and realities we must bear in mind. The military conquest of Sambisa Forest is not automatically the same thing as the defeat of Boko Haram. Right now, we have conflicting reports from those who should know about the level of progress already made. While the Chief of Army Staff, Lt General Tukur Buratai, wants us to believe that Boko Haram longer controls "an inch" of Nigeria's territory, Governor Kassim Shettima of Borno State informs that the insurgents still maintain presence in two local government areas and some parts of a third.
I don't want to be deceived: if Boko Haram no longer occupies any territory, how come it is still organising raids, carrying out suicide bombings and killing people? Why are we getting daily reports of Nigerians being rescued after the insurgents are driven from their hideouts by our gallant troops? Why haven't we declared the military campaign over with mission accomplished? Why are we still debating whether December is still viable as a deadline for eliminating this threat?
Reading off from my experience and gut feelings, I think we still have a lot to do before we can shout Uhuru or Hosanna. The military operation will certainly capture, clean up Sambisa Forest and possibly recover some of the abductees, including the surviving Chibok girls. The greater work before us is to ensure that we do not drive fleeing terrorists from Sambisa back into the law-abiding population. There is too much indiscipline, evil-mindedness, religious wickedness, perfidy and questionable loyalties among our people for many of the insurgents not to escape from the evil Forest and be cozily accommodated within the populace.
Some sections of the North have not been sincere in the war against Boko Haram. Many Northern Muslims are secret (and sometimes not so secret) supporters of the Islamists. When former President Goodluck Jonathan said there were Boko Haram supporters even in his government, he was only saying the truth which many found too bitter to swallow.
During the campaigns towards the 2015 general elections, a Northern governor showed me some threatening text messages he was getting from a variety of sources in the North and lamented that Boko Haram loyalists were "everywhere in the North", ready to come out the time was ripe.
If the North had been as sincere as the South in the fight against the terrorists, they would not have even had the chance to balloon into such a terrible monster. At a stage, there was hardly any highly placed or well-to-do Northerner who did not contribute to the insurgents. They gave either to buy their safety and those of their family members under duress, or voluntarily and supportively, or to protect their political interests or hurt those of their political opponents. These are things that usually happen whenever criminals overwhelm society and begin to call the shots.
Luckily and hopefully, the days when Boko Haram had the temerity to cow Northerners and force them to contribute to their upkeep are largely over. We can now separate those who supported out fear and those who did so out of conviction and begin to round up Boko Haram sponsors.
Without doing this, we will give the insurgents a breathing space to replant themselves in another "forest" and pronto, we are back to square one. Northern Muslims must first of all, purge themselves of their open or hidden loyalties to Boko Haram and its international paymasters. Without that commitment, I am afraid, we are going to dump N200 billion down the drain.
Having purged themselves of loyalty to Boko Haram, and joined in the apprehension of its sponsors and supporters, the next step will be to embark on an orderly relocation of the displaced persons to their communities. It will be necessary to assist all adults with a minimum amount of money along the lines of General Yakubu Gowon's "20 Pounds" to former Biafrans. With that they can start life from the scratch.
Without it they will be left in total destitution, and the youth among them may go back to Boko Haram or simply join the violent crimes train.
Speaking of the youth, we must set aside a special package for the "Civilian Joint Task Force" or Civilian JTF, the patriotic volunteers who have helped the army with the war on Boko Haram. These chaps have tasted blood and now used to the feel and power of weapons. We must learn from our experiences of the civil war and desist from simply demobilising them to fend for themselves, or they will simply use their firearms to make the North East a hotbed of crimes.
The actual construction work should focus on rebuilding schools, hospitals, roads and the agricultural infrastructure. This is not the time to waste scarce money on churches and mosques. Those should be rebuilt by the adherents of their faiths, not with government funds!
The rebuilding of the North East should not be left to Northern politicians alone, or they will, as usual, put our money into irrelevant matters that will not add much value to the common people. Let us go together to the North East Summit
Relocation of terrorist from Ekwulobia
I MUST register my delight that the Federal Government has yielded to the demands and concerns of not just Igbos but all Nigerians of goodwill, to remove the Boko Haram detainees from the Ekwulobia town jail in Anambra State. Kudos to President Muhammadu Buhari for that. The people of the town can now sleep normally.
But I still hope that the Federal Government took adequate care to ensure that the people of the next destination where they were taken are safe. I hope the prison will not be the type that Boko Haram can attack and thus endanger the people. It is not tribal issue but the safety of Nigerians that matters here. Whatever I wish myself, that is what I wish other Nigerians.
Subscribe for latest Videos