By Yinka Odumakin
I listened to a radio presenter two weeks ago playing the album Kollington Ayinla released after armed robbers snatched his Volvo car in the late '70s.After every two lines the Fuji maestro would release a high-voltage curse: "tiyin buru o"(yours has spoilt).The presenter allowed Kollington to download this curse about five times and asked: "Is it not Volvo Alhaji said they stole from him?"
I have been asking a similar question since the National Communications Commission, NCC, imposed a fine of N1.4 trillion on MTN for keeping 5.6 million unregistered lines among its 62 million subscribers in violation of a 2011 NCC regulations that no telecoms operator should not activate unregistered lines.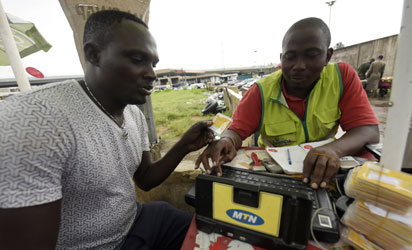 The regulator said it imposed paltry fines on all the GSM providers in August for violating the regulation but that while Airtel,Globacom and Etisalat paid their fines,MTN refused and this is why   it has decided to use the sledge hammer.The body did not tell us if the other operators have now complied with the law aside payment of fines.
I condemn MTN for thumbing its nose at the NCC and for failing to comply with regulations in a market it has done very well, making mouth-watering profits.I am still trying to calculate how much I have given to the South African company since I got   its line for a whopping   N30,000 within its first weeks of roll-out.
I have had a legion of complaints against MTN in terms of its services over the years but I still keep my expensive SIM.That is however a matter for another day.
My bewilderment at the moment is the kind of business climate we are creating and the unintended consequences of the   high-handed measure which our huffing and puffing officials may not see through by imposing a fine that is a quarter of our National Budget on a private firm.
I have just finished reading the current edition of Bloomberg Businessweek (Middle East) with the cover "Africa wants to do business.How dangerous can it be?".The report states inter alia: "Negotiating with the region's bureaucrats can also be tricky.The government of Djibouti rescinded DP World's concession awarded in 2006 to manage the Doraleh terminal port constructed by the UAE company,alleging corruption. Arbitration is on-going .South African telecoms firm MTN was hit with a $5b fine by the Nigerian government,after MTN allegedly failed to unsubscribe customers who had not registered their SIM cards.."
The report concluded thus: "The continent is still on the whole a difficult place to do business,Ashoune says.For Gulf investors,that should suggest caution.Sub-Saharan Africa isn't 'a goldmine waiting to be accessed,' says Downie. It's going to remain a struggle for years".
It is this kind of reverberations that officials should consider before taking rash decisions. MTN should be fined, no doubt, but a fine that seeks to kill its operations sends panic to investors on the rationality of   our business environment. What business has the Nigerian government created and sustained in the last 55 years that can afford a fine of N1.4 trillion? MTN and NITEL were given GSM licenses the same day but I don't know one person in the country who is using 0804 ..line today.If we were to be at the mercy of NITEL, communication would have ceased in the country.
The only "business"that is thriving for the government of Nigeria is the declining oil .The Nigerian National Petroleum,NNPC, ran at N59.4b loss in September; where in hell would it get N1.4trillion to pay as a fine if it were to be in MTN's shoes in another country?
If MTN folds up today, 6,000 Nigerians employed by it   risk losing their jobs with 500,000 others gainfully employed in its value chain facing the same disaster. How many jobs is the Nigerian government in a position to create for them?
That is why it is so ridiculous that our cash-guzzling governors who just announced they cannot afford to continue to pay the starvation wage of N18,000 are asking for the full enforcement of the N1.4 trillion fine.They must be calculating how much they would share from the sum.These are people who have not been able to run any profitable venture.They have indebted their states into bankruptcy and one of them who without proper reflection said he would repay his own loan within 10 years as against 20 is now crying that their   bailout debts should be written off. What opportunities are they going to create for those who will be laid off? These guys have been junketing around the world in search of foreign investors; who have they succeeded in bringing save for those who married foreign wives among them? And that in itself is just capital flight!
They obviously lack the capacity to see the larger picture of what happens after the sharing of the cash that would go on the usual profligacies.
This column insists MTN must pay fine for the infraction but not the crazy N1.4 trillion.They and all operators must also comply with the rules.
However, our government needs   to set example   with the standards it is enforcing on these private concerns.The truth is that they are only playing according to our national rule book: non-compliance. This is a country where thousands of those carrying our National Drivers License about cannot start the engine of a car. Our election day sees kindergartens displaying PVCs which are supposed to be products of biometrics.I can walk into any Immigrations office as Yinka Odumakin and come out   with a brand new passport saying I am  Ochereome Nnanna, report at the Under-17 camp and all my ten fingers would have been captured. I can go to a court and swear to an affidavit that I am Sani Abacha and that I need the document to prove that I just resurrected and I want to go and collect my pension and it would be stamped.
Re: Papa Eaglets and our cheating culture Feedback
Dear Sir, I just have to express my sincere appreciation for your clear and beautiful mind. I get excited anytime I come across your articles; I feel good because you stand for the TRUTH, whether politics, economy, sports, etc. Please, keep it up. We are only visitors on this planet, when we eventually cross-over, no one will ask if you were   a Yoruba, Igbo or a Benin man; you will only be judged   with what you stand for. Thank you again, and many blessings Sir. –[email protected]
You have written so well sir. A nation which has won four U-17 championships should boast at least a quarter final at the senior World Cup. Macaulay Chrisantus was the top scorer and best player at the 2007 U-17; Toni Kroos came second.  Both players careers have are presently in opposite directions. While Kross has become a Word Cup and Champions League winner,   Macaulay's has taken a tumble, playing for non-league clubs till he was recently signed by a Greek club. He is yet to make a senior team appearance. I neither watched nor celebrated any match or the trophy Nigeria won because I knew it was achieved on the platter of corruption and age cheating. The only solution to age cheating is to subject every player to an MRI test. This will determine to some extent the true age of these players –[email protected]
Oga,
I hope you know that there is something called MRI test used to determine the true ages of those boys. Why are you crying more than Mali and all those other countries we defeated to win the cup?
If we had   lost you would have said our team was useless. Please try and do more investigation before writing –[email protected]
Dear Yinka,
Thanks for speaking out about what I have always known to be a fraud.
Nigerians always shy away from answering the question: "Why do we always do well in age-limit competitions and grossly underperform at the senior level?"
The issue needs to be seriously addressed if we hope to make any progress in  sports generally.
Sincerely,
Charles Odikpo
Hi Yinka,
Having read your article on the above subject,  I want to say 'Well done' for choosing to write on such a sensitive issue. I tried to restrain myself from replying but could not because I'm vexed in my spirit. However, my reply is not borne out of any ill feelings towards your article but what you and your co-journalists had refused to do.
The first and the most crucial issue I have against you is  why wait till after the competition before writing on the issue of  age cheating?  I do know that   journalists are the image makers of the society. If you observed that players are bribing the coaches to allow them reduce their ages or that the coaches are aiding the players to   reduce their ages because they want to win at all cost, I think it is moral  that you  expose them immediately. But your reticence has made you a partaker of the crime.   I would like to ask Adokiye Amiesimaka if he would not do the same were he to be a coach of the junior national team?
Secondly, you were not objective in your analysis. I know that Nigeria is not the only country that cheats during age grade competitions. But you failed to highlight this fact, which is not fair to your motherland.
Thirdly, you made mention of some Super Eagles players who are age cheats, which is very commendable of you. But I want to bring to your notice some players like Arjen Robben, Diego Costa,   just to mention a few, who look older than the ages they claim to be. You might want to argue that their physical appearance might not be a reflection of their real ages, but don't forget you also said in your article that the physiques of these triumphant Eaglets betray them as age cheats though it is disheartening to see that players like Femi Opabunmi, Victor Brown and Macauley Chrisantus never made it to prominence because they cheated themselves not us.
Finally, in as much   as I would like to shake hands with you for once again bringing to light this  crucial issue which has eaten deep into our fabrics, I wish to say that you and I have a big role to play.  'Enough is Enough'. Let us give the right people with the right age the right exposure. Like Malcolm Gladwell wrote in his book,  The Outlier,  we need to give the kids with the right age  the head start they  need in life and stop giving the age cheats undue advantage.
We need to collectively stop all those in the administrative positions who have  abetted and encouraged such  shameful acts.  We  need   to do the right thing starting from here, today and everyday.
Regards Ndubuisi Philip, Benin City.