Protests could scuttle Igbo Presidency—APC
BY FRANCIS IGATA
ENUGU – A faction of the Movement for the Actualization of Sovereign State of Biafra, MASSOB, weekend, lashed out on Enugu Catholic Priest, Rev.Fr. Ejike Mbaka describing his comment on the struggle for Biafra as insensitive and unguided.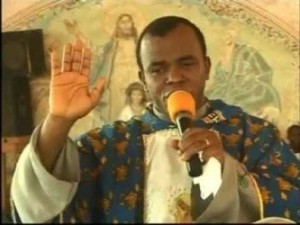 Fr. Mbaka had during last Saturday sermon at his Adoration Ministry condemned the recent agitation and protests for Biafra nation describing the action as `evil.'
This came as the All Progressive Congress,APC,South-East geopolitical zone, yesterday, appealed to MASSOB and similar groups to stop their war drum, as it could scuttle the quest for Nigeria president of Igbo extraction in 2023.
Apparently infuriated at the fiery clergyman's comment, Director of Information, Factional MASSOB, Mr. Uchenna Madu regretted that Fr. Mbaka' condemnation of Biafra struggle is, "selfish and shameful. How can a revered Igbo clergy man descend so low in making such a condemnable statement few days after President's Buhari's wife visited him.
"Mr President should be aware that no money given to Mbaka, persuasion, personal friendship with him can ever frustrate or diminish the rising status, consciousness and global reawakening/acceptance of Biafra. A man who speaks with both sides of the mouth at a time is a hypocrite and is not worth to be trusted. The Igbo christians, catholics and even the Pope will prove Mbaka wrong. Many Igbo clergymen including the Catholic priests are not in support of Mbaka's government paid anti-Biafran comment.
"This why the Igbo youth and other citizens have lost confidence/trust on many Igbo leaders in Nigeria. Biafra agitators are more determined to sacrifice our shops, businesses, jobs, comfort and even the supreme price for the sake of our freedom. Mbaka should be aware that even during our peaceful/non violence demonstrations, the agitators, sympathizers and Biafran patronized his products including his sachet water and yogurts. Mbaka's business boomed as the protests lasted."
Meantime, Spokesman of South-East APC, Mr.Osita Okechukwu has noted that whereas we agree that there is gross unemployment, discontent and despondency among youths in the land; however it is not peculiar to the South East alone.
"The gross unemployment is nationwide and would be addressed holistically, luckily our son distinguished Senator Chris Ngige is the minister in charge of employment. Pro-Biafra agitators should stop their mass action and drums of war in the overall interest of the Ndigbo at home, across the country and abroad. As our record shows that it's better to jaw-jaw than to war-war. Dialogue is the best solution,albeit we are doing relatively well across the country and our human development index is one of the highest.
"Ndigbo must be strategic in our agitation, as every evidence suggests that we would be one of the greatest beneficiaries of the progressive and prosperous Nigeria being constructed by President Muhammadu Buhari.
"We cannot act like the rodent inside the deep hole for years, only to revolt when it was about to be freed. Methinks that this is not the best of times to hype and escalate the agitation for Biafra, because President Buhari has pledged to resuscitate the dilapidated federal roads in the South East, revamp Enugu Coal, fix 2nd Niger Bridge and other physical infrastructure.
"For Mr. President his word is his bond. Critical analysis posits that after his 2nd tenure, it will be the turn of the South East to produce Nigeria president of Igbo extraction."