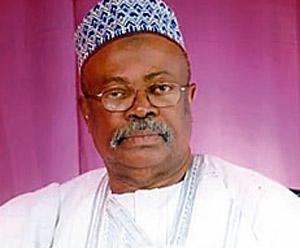 Abubakar Tsav
Gov Ortom is Senator Akume's puppet
Former Lagos State Commissioner of Police, Alhaji Abubakar Tsav, in this interview spoke on the disappearance of the case file of Dele Giwa's murder, his strained relationship with Senator George Akume and Governor Samuel Ortom, his new assignment at the Public Complaint Commission and lots more. Excerpts:
By Peter Duru
President Mohammadu Buhari recently nominated his Ministers after a long wait, are you impressed with the calibre of men and women who made that list?
As a matter of fact I know just a few of them, I don't know most of them. But I'm sure the President must have done a lot of home work to select that team.
The bad thing about this country is that nearly every public office holder has a stain. So let's all wait and see how they will perform.
 You were recently appointed a Commissioner at the Public Complaint Commission, how would you compare this assignment with you last job as a Police officer?
You see, there are lots of social and administrative injustice in this country, people don't know that the Commission is there for them to run to in such cases. Though, the Commission itself has not made its presence felt for people to appreciate it. But it's a body that is termed a watch dog against social injustice. It has a huge responsibility and if they do what they should do, I think the society will be better for it.
Comparing my job as   Police officer and my present responsibility, the fact is that the assignment we have here is more of social assignment, it's more of a humane assignment. It's is an assignment you do without seeking any benefits. You try to reconcile people, for instance, if they have grievances among themselves.
If you find out government or any organisation has cheated on a citizen, you try to intervene to resolve it without seeking any benefits. Unlike in the Police, when I reached the rank of Commissioner and I had my command, I had no interference, but when I was a junior officer there were lots of interferences. You try investigating a very good case, before making a break through somebody on top will just take the case from you and you will not hear anything about it. The reason for all that was corruption. But when you attain the rank of Commissioner of Police in charge of a state and you are honest, you'll enjoy doing the job because when an offence is committed you ensure that it is treated accordingly in line with the dictates of the law.
But as a junior officer you might be handling a case believing that you are doing a good work, doing the case very well, a senior officer will come and take it from you and you'll not hear anything about the matter again. I suffered and had lots of such cases.
For instance, I had the case of murder in Benin when I was Officer in Charge of General Investigations at the Force Criminal Investigation Department, CID, Lagos. The case in question had earlier been investigated by some people but they could not make any head way.
So I was given the matter to handle. I investigated and established the case and sent it the Federal Ministry of Justice. They advised that the evidence had been established to prosecute the matter but said they had no authority over a case that occurred in Bendel State of those days and that we should send the same file to the State Ministry of Justice. On getting the file, the state ministry of justice also gave us the same advise that a case had been established against the suspect.
Higher authority
We took the man to court and he was remanded in custody, only to receive instruction from higher authority that we should withdraw the case, that we did not investigate the matter properly. They took it and gave it to a junior officer, and that was the last we heard of the case.
I also had the case where a senior officer   exchanged cocaine with yam flour in Kano, I was given the case to investigate, I investigated it, found the officer liable, wrote a report on the case for prosecution, they took the file from me and that was the last I heard of the matter.
I had also this case of Dele Giwa for instance, the case was initially   handled by a Commissioner of Police, now late, then later they gave it to me as the Officer in Charge of General Investigations at the Force CID Lagos.
I investigated the case thoroughly well, I took statements from Gani Fawehinmi, I took statements from Ita Giwa, I took statements from Soyinka, and I also took statements from Dele Giwa's son who received the parcel from the man who brought it.
We established a case and then I wrote an interim report to the authorities that I wanted to be given authority, because then we were under military regime, so that I can go and search the offices and residences of the people we suspected.
And when the case file went, that was the last I word of it. But as for the job we are doing now, the law establishing the Commission says nobody should interfere with the work of the Commission, nobody must try to influence it.
You claimed that you investigated the murder case, and that you interrogated all your suspects including Kayode Soyinka, are you aware that Retired AIG, Chris Omeben stirred controversy in the media recently with his claim of investigating the same case?
Yes I'm aware of what you are talking about. But the question is, did Chris Omeben investigate that murder case? He was not part of it; certainly not. He was not part of it. As far I am concerned he never handled case.
Interim report
I told you that I was given that case to investigate and I carried out all the investigations and came up with an interim report seeking authority to conduct searches at the homes and offices of the suspects and thereafter the case file disappeared into thin air.
As the officer who handled that case, I appeared before the Oputa panel to tender everything I knew about that case. If he claims he handled the case why didn't he appear before that panel to give evidence of what he knew?
So are you saying that he had no role to play in that investigation?
Yes, the then AIG Victor Pam, who later became the Gbong Gwom Jos was the one that played a role in that investigation if I may say so because he was the one I wrote my report to and who appreciated the assignment I carried out.
Why is Omeben claiming he investigated the case?
Well, maybe he saw the file and took it up to gain favour or for higher responsibility, that I don't know, but if   his claims were true why didn't he appear before the Oputa panel. Nobody invited me to that panel, I went there on my own even though I was threatened. The man just wants to generate attention. What I'm saying is that if he is insisting, the press should invite the both of us to thrash the matter so that the world will know who is telling the truth.
It's claimed that you have been so hard on Governor Samuel Ortom's administration in Benue state just like you were on George Akume's government. What necessitated your posture?
Look, I've said it several times and I want to say it again, during the time of Akume as Governor, he started off and we were friendly until he stared doing things that were wrong.
There was general impunity, people were doing anything without being checked, there was a lot of corruption. Contracts were given without execution. When Suswam came in I started against him too, I thought that since Akume brought him he was going to do the same thing.
Support for Suswam
It was when he deviated   from him that I stop because he was always taking advise.
So, Akume did very badly, but when Suswam deviated from him I decided to support Suswam. However, when Governor Samuel Ortom came, and you know the circumstances under which he came, he came in and he started doing the bidding of Akume. Every key appointment is made by Akume.
He is like a puppet and he is doing Akume's bidding, that is why I'm angry over the whole thing. They have threatened me, but I don't care, anytime it pleases God to take my life I'll go. What has taken my father and mother away should not scare me. I regard their threat as empty.
He came in and is talking about probe, he is not talking of his own programme. They reported Suswam to the EFCC, why can't they wait to see the outcome of the probe panels they instituted before doing that. If they attend any occasion it's Suswam has stolen, in church or burial, it Suswam has stolen. Why can't he start his programmes. Benue people are not interested in what has passed, they want to know what he can do for them. That is what interests them.