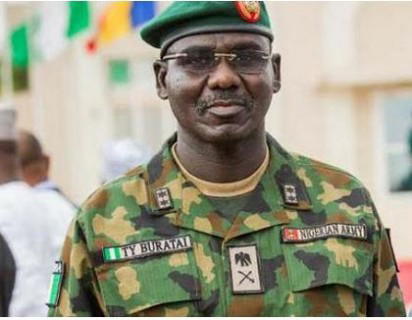 Former Chief of Army Staff, Lt-Gen. Tukur Buratai(retd).
The Nigerian Army has debunked claims by the National Orientation Agency, NOA, that Boko Haram is planning an attack in the southwestern region of the country.
Recall that the NOA, yesterday, raised the alarm of an imminent attack by the terror group, in a statement released in Ado-Ekiti by the state Director, Mr. Dayo Famosaya.
Famosaya had in the statement urged members of the public to avoid crowded places, be security conscious, as well as watch out for strangers in their neighbourhood.
Famosaya, in the statement entitled Public information on security consciousness and awareness, said Boko Haram fighters may have infiltrated the South-western part of the country, going by the content of security agents reports.
He said: "They have threatened to deploy cluster bombs in the zone. These cluster bombs are usually housed in discarded metallic materials such as cans of beverages and soft drinks.
"The bombs may be concealed in bags and for it to have more grievous effect, they have planned to deploy these bombs in crowded places such as schools, markets, stadia, churches and mosques."
It warned the public to watch out for people wearing flowing apparel, as it was the type of cloth they wear to hide their weapons.
But in a swift rebuttal, the Nigerian Army in a statement posted on the Defence Headquarter Facebook page said: "While concerted efforts are being made by the military and other security agencies to contain the menace of terrorism in the North East with tremendous success, it is disheartening to hear of some unfounded rumours of impending terror attack in western parts of the country.
"Those who seek to spread falsehood in order to cause unnecessary panic among the populace are hereby warned to stop forthwith.
"We want to advise the general public to disregard such rumours and go about their normal businesses. Any suspicious or unusual movement of persons should be reported to security agencies as the military is working round the clock to put an end to terrorism."