BY JOSEPHINE AGBONKHESE
For Mrs Olayinka Ayanwale, life without compassion is meaningless. This virtue has remained the force behind her tenacity towards the mandate of Inner Wheel International, a worldwide social service organisation comprising women since 1986 when she joined the organisation. That mandate is improving lives all-over the world.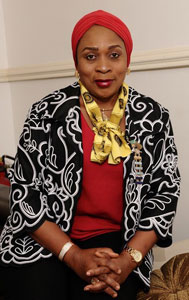 A respected and successful entrepreneur, Olayinka's steadfastness eventually landed her the organisation's most coveted position at her district level, District 911 Nigeria, and she was in July sworn in as its chairman at a colourful ceremony in Lagos.
Alongside improving lives in Lagos and Ogun states whose Inner Wheel clubs she oversees, she is also rising up to the challenge of dwindling membership in Nigeria, a trend she blames on Rotary International for amending its policy on women inclusion.
Feminista had a chat with her.
How do you intend growing membership since most women now prefer to join Rotary?
Since Rotary now admits women, we too have begun admitting non-relatives of Rotarians.
Formerly, our membership strictly comprised wives and relatives of Rotarians until a few years ago when Rotary started admitting women instead of being a men-only organization. This really affected Inner Wheel because in the past, every Rotarian brought his wife to Inner Wheel. Now, we have modified our membership qualification to accommodate any lady of integrity who is, above all, ready to serve.
Growing our membership is essentially a big challenge for us this 2015/2016 Inner Wheel year because of our chance of presiding over Inner Wheel internationally for the first time in history
Otherwise, we will be affected  internationally because for the first time, Africa has produced an International Vice President in person of Mrs Oluyemisi Alatise, a Nigerian. To keep this tempo and ensure she subsequently emerges President, we have to meet the membership level required for presiding over Inner Wheel worldwide. We've at least got to be up to 1,000 in Nigeria but as we speak, we are not up to.
In India for example, Inner Wheel has about two million members. Same with Britain and many countries around the globe.
Isn't that quite poor for a country as populous as Nigeria?
Yes, it is. If any country has to suffer low membership strength in a charity organisation, it should not be Nigeria because we are, like you said, Africa's most populous nation. We need strength to be able to impact more lives.
Now what we are doing is creating awareness and letting people know Inner Wheel is now an organization of its own; not a body for only wives and relatives of Rotarians.
About ten years ago when I first encountered Inner Wheel, it had plenty of successful, and permit me to say, prominent women. But that isn't exactly the case anymore…
That was why I said any female being admitted now must have to be a woman of integrity. Not just anybody. As a matter of fact, whoever we have to admit now must scale through our laid down screening procedure.
In fact, I'm glad to announce that our old members are now returning to the organization because they now hear of all that we are doing in Nigeria despite our low membership strength.
In what ways will your one-year tenure be impacting lives?
My star project is vocational training and empowerment, which we've started already, and recently, we graduated 44 youths from our vocational training centre based in Festac, Lagos. They were trained in six different skills namely: catering/events management, decoration/events management, computer web designing, bead-making, Ankara craft and makeup/makeovers. We graduated them with start-up materials like gas cookers, laptops, professional makeup kits, etc.
That brings me to the state of that your training centre. How come such a multi-million naira edifice originally designed to curb unemployment was abandoned for three years until July this year?
The problem was the traffic gridlock around Mile2/Amuwo Odofin axis. Even when we tried having meetings at the centre, members hardly showed up because of difficulty in accessing the place. The traffic situation really put us off. Hence, the place could not serve its purpose for over three years. Instead of locking it up though, we decided to let it out. Now, the traffic situation is better and we are back to the centre. Members can now access the place easily. Before, we could spend five to six hours in traffic on that axis.
The district has however agreed to make the training a continuous project. I'm also planning to support businesses with fund.
How are the demands of this office affecting your personal life?
Thank God I have an understanding husband, Alhaji Kola Ayanwale. Like he would tell everybody, he has prepared for this in the last one year. As for my children, they know this is one full year of sacrifice. Anyway, I do not have any toddler among them; they are all grown up. So, my family life isn't really affected.
…and your Mr Biggs outlet?
I still make sure I get to the restaurant each morning before visiting our vocational centre in Festac. I also stop by when going home in the evening. Fortunately for me, the vocational centre is somewhat on the same route with my business.
What's your message to Inner Wheel members across the country at this time?
We should all work hard to move the club higher like the theme for this year 'Unique & United' says. We should make our unity translate into better life and equality for people. I expect all Inner Wheel members in Nigeria to make this a priority.
…and how do you hope to enhance dignity and pride for your organisation in Nigeria?
We are greatly respected internationally. We only have to be more committed over here so as to be able to support the work of government.
Lastly, at what point in life did you decide to join this selfless organisation?
I joined Inner Wheel in 1986 when my husband joined Rotary. But what made it take so long for me to emerge District Chairman was because the Isolo Club, which I belong to, went into comatose for many years. Some of our members relocated, some where aged, and some probably lost steadfastness. I was practically the only member running and sustaining the club at the district level before Mrs Ronke Solomon, wife of Senator Ganiyu Olanrewaju Solomon, joined me in reviving the club.