By Muyiwa Adetiba
Three weeks ago, I wrote a column titled 'Rich country, poor people' in which I lamented the disconnect between our resource rich country and its poor people. I also lamented the nonchalant wastefulness of our leaders who prefer to line their pockets instead of developing their country.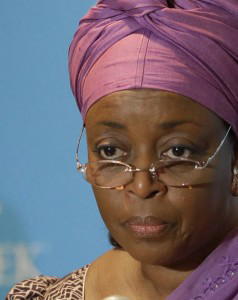 The title of the column was taken from a book with the same title written by Professor Oyebanji Oyeyinka, a director at the United Nations who, as I explained in the column, is a close friend to a close friend.
The inspiration for the article came from the book and I acknowledged that while taking some excerpts. Stated verbatim below is what he texted to our mutual friend after reading the article.
'Each time I think of the issues I get so emotional. What a waste of generations. People like you and Muyiwa should be actively engaged in developing our country. What do we have? An army of poor people while vultures like Diezani loot the commonwealth. I pray there will be time soon for redemption.'
This our mutual friend I must add, was among the first set of Engineers recruited straight from the university and trained by the Federal Government in steel technology soon after Nigeria decided to develop a steel industry.
He and his colleagues watched as their dreams and hopes of becoming proud pioneers in such a vital sector of the economy were dashed by bad policies, poor implementations and corruption. One by one, they left the moribund industry and were left to pick up the pieces of their broken careers.
I texted back to say that one does get tired of speaking to leaders who refuse to see how other leaders developed their countries. But really, as long as one does not have any other country, (apologies Buhari) one cannot be tired.
So today, I take another book in the hope that something will touch a chord in the heart strings of our leaders especially now in this season of change.
The book is titled: 'The Looting Machine". Written by Tom Burgis, a journalist who had worked for the Financial Times of London, and published early this year, it is an investigative narration of how the developed world has looted and are looting the continent with the active collaboration if its leaders and war lords who masquerade as freedom fighters.
Below, is how he described the continent of Africa. 'Africa is the world's poorest continent and, arguably, it's richest. Although accounting for just two per cent of global GDP, it is the repository of 15% of the planet's crude oil reserves, 40% of its gold, and 80% of its platinum. Beneath its soil lies a third of the mineral deposits found on earth.
But this treasure has proved to be not a salvation but a curse.' It then goes on to describe in riveting details, how the continent's resources have become a curse. This book is not for the faint hearted. It is so graphic; so detailed. It takes us through the labyrinth of international board rooms, complex corporate structures and glittering headquarters of what amounts to a new form of financial colonialism.
It talks about the corporate raiders who have sprung up to grease the palms of venal local political elites in what it describes as systematic looting of Africa's resources. The currencies of the trade in oil, precious stones and ores, it says, are corruption, oppression and violence.
It is also a courageous book in that in countries after countries, he gave the names and sometimes the 'modus operando' of the shadowy figures behind the looting of Africa. It is in many ways, a name and shame book leaving us with enough ammunition to take up the fight ourselves if we have the stomach.
I do not know if I would return to the book again in subsequent write ups but I would really love to. Today however, because of the menace of Boko Haram in the Northern part of the country, I want to state the book's account of how the North was further impoverished. But first, this is how it described Nigeria.
'Nigeria has everything: fertile land, great natural wealth, universities that were in years after independence the envy of Africa, an abundance of intelligence and ingenuity reflected in the ease with which Nigerian expatriates make headway abroad, Nobel-prize-winning novelists and savvy businessmen.
But oil has sickened Nigeria's heart.' The title of this column is a sub-title in the book that deals with the effect of poverty and unemployment in the North caused mainly by the massive smuggling in that part of the country.
'In the mid-1980s Nigeria had 175 textile mills. Over the quarter century that followed, all but 25 shut down. Many of those that have struggled on do so only at a fraction of their capacity. Of the 350,000 people that the industry employed in its heyday, making it comfortably Nigeria's most important manufacturing sector, all but 25,000 have lost their jobs.
Imports now comprise 85% of the market despite the fact that importing textiles is illegal. The World Bank has estimated that textiles smuggled unto Nigeria through Benin are worth $2.2 billion dollars annually compared with local production that has shrivelled to $40 million.
A team of United Nations experts concluded in 2009 that 'The Nigerian textile industry is on the verge of a total collapse'. 'The knock-on effects of the collapse ripple far into the Nigerian economy, especially in the North. About half of the million farmers who used to grow cotton no longer do so, although some have switched to other crops.
Each textile employee supports maybe half a dozen relatives. It is therefore safe to state that the destruction of the textile industry has blighted many lives. The social fabric has been rent. There is violence everywhere.'
'The Chinese have so thoroughly captured the market that it will be near impossible for Nigerian operators to compete in the near future. There are 16 factories in China dedicated to churning out textiles with 'Made In Nigeria' badge sewn into them.'
And the man who has facilitated the massive smuggling of Chinese textile and in doing so facilitated the collapse of the textile industry is a Nigerian, a Northerner. He is described as a businessman whose fortune runs in to billions, a confidante of presidents, a devout Muslim and a philanthropist whose airline transports Nigerian pilgrims to the annual hajj.
He also ranks among West Africa's preeminent smugglers. His network of warehouses and agents stretches to Dubai, China and India. According to a top banker, 'you put it in his warehouse, and he will smuggle it. He controls the import of everything that requires duty or is contraband and manages a shadow economy that includes border authorities.' End of quote.
The sad thing is that everybody knows him for what he does but he is such a major political financier that nobody has the will to bring him to book. This is a clear example of how foreigners, this time the Chinese have, with the active connivance of influential locals, destroyed a vital economic sector of the country and made the North 'an incubator of poverty and violence'.