Esther Onyegbula & Ebere Aham
A staggering forty-four heavily armed robbers, last Tuesday, stormed two second generation banks in Festac area of Lagos State, and carted away huge sums of money whose estimate is yet to be made public. The bandits who were reportedly dressed in army camouflage uniforms operated freely for over two hours without police intervention.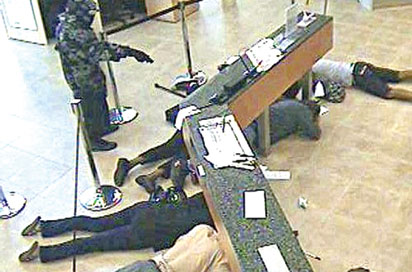 During the operation, three persons including a woman and her 2-year-old baby were killed by stray bullets from the dare-devils who attacked from a nearby waterway and escaped also, through the same canal.
Scores including bank officials and their customers were also seriously wounded during the stampede that ensued.
Shockingly, a few minutes after the bandits escaped with their massive loot, a team of policemen arrived the scene and members of the public reacted angrily by booing them for not responding promptly to the distress call while the deadly operation lasted.
The Police at Festac were specifically indicted for negligence and lack of commitment to their responsibilities.
Perhaps, in a swift response to the incident, Police authorities re-deployed the Area Commander and former Force Spokesperson, Frank Mba to Oshogbo, Ondo State and quickly drafted a replacement from Ibadan, Oyo State. As at press time, the fate of the Divisional Police Officer in charge of the area was yet to be known.
That notwithstanding, there is still palpable rage over the ugly development. Crime Guard went to town to feel the pulse of Lagosians over the development and crime situation in the state generally.
Excerpts:
Mr. Tola Noibi, Chairman, Aramyde Communications, Lagos
The Festac incident was very unfortunate. I will blame it on electioneering campaigns where youths were used and dumped irresponsibly.
The leaders of the country need to restructure the economy especially with human empowerment backed up with functional and effective recreational training. Security stipend of about N50,000 should be provided for the unemployed monthly.
It should, as a matter of urgency, be paid to cushion the effect of mental and fiscal challenges of the jobless. Most crimes in the society often emanate from frustration and nonchalant attitude from leaders who flaunt their ill-gotten wealth irresponsibly.
Our Police also needs to be empowered mentally, physically and financially. Most of them, at the level of rank and file, are not encouraged and disciplined. The ratio of policemen in the society is below expectations and needs serious improvement.
Comrade  Ayodele Adeniyi-Adelen, immediate past Chairman, Amuwo-Odofin LGA
I don't have anything to say concerning robbery attacks in Festac because when I was talking about it, you saw what I went through and nobody cared. I forewarned that time, that it would get to this level but nobody cared. I was attacked in my office.
I would suggest President Buhari and Governor Akinwunmi Ambode set up a committee to investigate the criminality and what is happening in Amuwo Odofin LGA, especially Festac. That is the way forward. They must set up a panel to come up with a white paper where stakeholders would discuss these issues.
Mr Okechukwu Nwanguma, National Coordinator, Network on Police Reform in Nigeria  (NOPRIN)
Government should show greater commitment to police reform. Government should also adequately fund and equip the Police to enhance their morale and operational capability to effectively discharge their functions of providing public safety and security.
Miss Chiamaka Ajeamo, student
The crime rate in Lagos now is very high. It is as if the Governor is not doing anything at all about security in Lagos. That of Festac is so alarming that the residents are scared of their lives and property. How can a robbery attack take place in the same street where a police station is located and they could not do anything?
For crying out loud, there are only three entrances and exits in and out of Festac, and they could not block them before they escaped through the waterway. On the long run, innocent lives were wasted. I think the Lagos State Government should tighten up security.
Mr Chidi Emmanuel, generator technician
Instead of the government spending money unnecessarily, they should take care of us and provide for us. Government should set up trust funds for children as soon as they are born, so that they can have somewhere to begin from when they graduate from school. This will reduce crime rate.
Mrs Hilda Fadeyi, teacher
Crime rate in the state is quite alarming. It is sending a message that the citizens should be seriously at alert because they are not safe any more.  At any time, you should expect anything to happen.  One of the ways government can help is by properly equipping the Police. The state should  get them better equipped than they are already. And citizens should be educated.
Mrs Gloria Egbuji, Executive Director, Crime Victims' Foundation
The Police should put more efforts at building good relationship with the public so that they can provide intelligence to police when necessary.
Mr Chika Okafor, mini-mart ownerThe government needs to be friendly to us and reinforce the Police. A lame man does not go to the battlefield with a wooden spoon. It is not only Festac that is suffering from this. Even Oke-Afa. The IG of Police is trying his best to make sure that there is security. The masses should be encouraged to talk to the Police when they notice anything too.
Mr Isaac Adeniyi Ajayi, commercial motorcyclist (okada-rider)
There is nothing the government can do than give us security in this very insecure Lagos. We need better security. It can help curb the armed robbery attacks. Police should always be around. At least,when armed robbers see police, they will have a change of mind and do something better.  The police is good but most times, they do not do their jobs. How could robbers rob banks in broad daylight and police in that area were nowhere to be seen?
Mr Nchege Johnson, lecturer
Over and over again, it has been suggested that government should equip our uniformed men, engage them in serious military trainings and sophisticated practicals.  Government can also increase the security manpower posted to areas in Lagos.
Mr Elijah Famakin, commercial driver
In the past, there was Operation Sweep. Is there no way to bring it back? We are not even safe in our homes. Before going out in the morning, you don't even know if you will still be alive in the evening after work. The Police that are supposed to save us are non-nonchalant in their dealings.
James Ojo Adakole, student
The recent robbery in Festac has again brought to the fore the fact that it is not only raining woes in our security system; it is pouring. The first, considering a metropolitan city like Lagos which is the hub and epicentre of business activities, religion, investment and a hunting ground for most Nigerians, its security ought to be at the peak. However, the reverse is the case.
The government should increase the number of policemen in the state following the UNESCO recommendation of one policeman to 122 people. More so, the security agencies should be given the necessary tools to do the job. It is no gainsaying that our policemen lack the sophisticated weapons to combat such robbery attacks.
Security agencies should be given the orientation, tactics and managerial wherewithal to combat robbery in the state.  According to reports, the Police were alerted about the unfortunate incident when it was taking place but because they lacked the tactical approach, they could not apprehend those robbers.