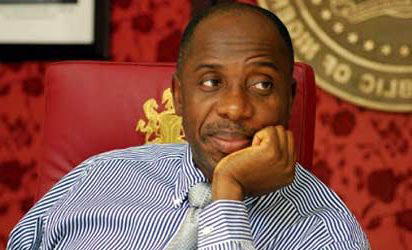 Amaechi
By Ikenna Asomba Follow @ikennaasomba13
After weeks of high-wired politics, former Governor of Rivers State, Chibuike Rotimi Amaechi, was finally received on Thursday, into the hallowed chamber of the Senate to be screened as a ministerial nominee by Senators.
Amaechi was led into the chamber at about 1.38pm by Chairman of his party, the All Progressives Congress (APC), Chief Odigie Oyegun and Special Adviser to the President on National Assembly (Senate), Sen. Ita Enang.
This came, following the formal receipt by the Senate of report of the Sen Samuel Anyanwu-led Senate Committee on Ethics, Privileges and Public Petition, over a petition bordering on allegations of fraudulent practices during his tenure as the governor of the state.
The petition against Amaechi was sent to the Senate by an anti-corruption group, Integrity Group.
Drama, however, ensued when Senators of the Peoples Democratic Party (PDP) led by Sen. Godswill Akpabio raised a point of order, stating that content of the report of the Senator Anyanwu-led committee should have been made known to the Senate, before Amaechi's screening.
Akpabio noted that the PDP-caucus in the Senate had reached a resolution not to ask Amaechi questions.
By this statement, the Senate was thrown into a frenzy of sort.
Again, drama heightened in the upper chamber with fierce opposition from PDP Senators, when Senate Leader, Ali Ndume pointed that that the report on Amaechi had already been laid before the Senate by Senator Anyanwu, adding that copies will be handed to senators shortly.
Ndume, however noted that being a former lawmaker and governor, Amaechi should be allowed to take bow.