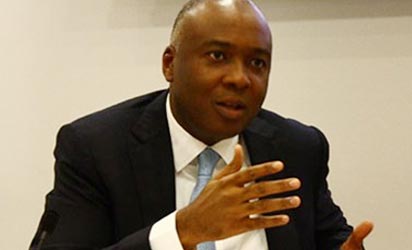 Senator Saraki
By Levinus Nwabughiogu
ABUJA – Deputy National Publicity Secretary of the All Progressive Congress, APC, Comrade Timi Frank, on Sunday, described those calling on the Senate President, Dr. Abubakar Bukola Saraki, to resign as ignorant and myopic.
Frank spoke on the heels of a call for resignation by a body known as "Northern Ethnic Nationalities Unity Congress (NENUC)", led by one Bako Benjamin
In a statement in Abuja, Frank said that the purported resignation threat on the account of unproven allegations, does not hold water, saying that the masterminds were suffering from acute kwashiorkor in terms of knowledge.
He stated that the body does not exist and "therefore cannot purportedly speak on behalf of northern youths as "you cannot put something on nothing", even as he called the convener a shadowy figure.
He said: "At best, NENUC is an impostor organisation hurriedly packaged to do a dirty job the behest of Saraki's traducers, with the sole aim of assailing his towering image.
"Where were they when Saraki was governor? Where were they when he was chairman of the Nigeria Gogernor's Forum (NGF)? Where were they when he blew the whistle on the fuel subsidy scam in the 7th Senate? Where were they when he contested and was elected Senate President?
"Let failed politicians not seek to make political capital from this set up against Saraki called asset declaration trial."
"Their claim to have mobilized Nigerians to protest, should Saraki not heed their call to resign in three days, shows their level of desperation to deliver on the smear contract they have been awarded.
"Their ignorance of the law, that a man is presumed innocent until proven guilty by a court of competent jurisdiction, is also most profound.
"Is the judiciary no longer the last hope of the people? Saraki had faulted the charges against him as being politically motivated. He had also gone to the Federal High Court to seek redress.
"But those who are eager to get him out will do everything to stop the wheel of justice in this case, hence the warrant of arrest issued by the Code of Conduct Tribunal and the spurious calls for his resignation.
"Why the hurry to try Saraki, when it is apparent that the Chairman of CCT, Danlandi Umar, himself swimming in a pool of corruption allegations, would rather disobey the orders of a superior court of record that ordered that all parties to the case should appear before it," he stated.
The Deputy Publicity Secretary further accused the group of attempting to trample on the rights of the senate president, calling Nigerians o disregard the body.
"The position of NENUC, even though does not represent the views of the people of North, are reminiscent of our dark past for which we pray never to return or experience in the annals of this country.
"Let this amorphous association and its backers know that we are in a democracy and not under a dictatorship as they would have wished.
"They have threatened to protest which I doubt because it is diversionary, but should they attempt it, they will meet Nigerians on the streets who will match them words for words and action for action," he said.