Former NFF electoral committee chairman Abdulhakeem Mustapha has warned   coach Sunday Oliseh  to stop testing out players and rather play the country's finest if the Super Eagles are to qualify for AFCON 2017.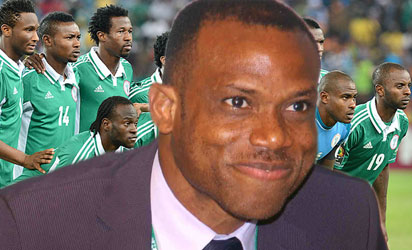 Mustapha, who midwifed the election that brought former NFF president Aminu Maigari to office, also told AfricanFootball.com that Nigeria has no business playing a draw with a country like Tanzania.
The lawyer who is a close confidant of Kaduna State Governor Nasir El-Rufai who has the ears of President Mohamadu Buhari, noted: "Comparing ourselves with Tanzania in Football is a mis-match. Tanzania is not a footballing nation. To show we are a serious footballing nation we should do what other big Africa footballing nations are doing which is to win our matches home and away.
"Every Nigerian feels we should beat Tanzania home and away anytime and we didn't do that. And this is an indication that all is not well with our football. This is the time for us to walk the talk.
Nigeria played out a disappointing  goalless draw away to Tanzania on a weekend when Africa powerhouses, Ghana, Cameroon, Zambia, Morocco and Egypt all won away from home.
Mustapha said must their best during the AFCON qualifiers.
He said: "Oliseh has a big task ahead of him. Anything short of delivery results is not good enough because I heard the NFF has given him everything.
"These are qualifiers not training matches. And I don't think we should be testing players with qualifiers. We are 170 million Nigerians we should just go for the best players.
"For the fact that a player didn't response to a telephone call is not enough to leave him out if he is one of our best legs. We need the best 11 players we can boast of in the world if we must go pass Egypt."