By Theodore Opara
Owners of long distance luxury buses plying various routes across the country have called on the Inspector-General of Police, Solomon Arase, to deploy anti-crime teams that will provide day and night surveillance on the highways to stem the rising cases of armed robbery.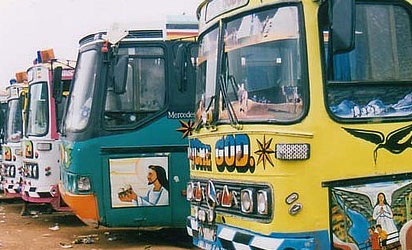 The bus owners also want police to investigate the frequent robbery attacks targeted at their vehicles and the hapless passengers which, according to them, have been on the increase in recent times, leading to loss of lives and a decline in their operations.
These were some of the measures recommended by the transporters under the aegis of the Association of Luxury Bus Owners of Nigeria, ALBON, when they visited the police boss in his Abuja office recently, following a spate of armed robbery attacks on luxury buses on various highways.
Led by the National President of ALBON, Sir Dan Okemuo, the bus owners lauded the efforts so far made by the Inspector-General to address the problem of insecurity since his assumption of office a few months ago, adding, however, that with regular patrol, crime on the highways "would be drastically reduced, if not totally eliminated."
Hot spot
The association identified some of the routes on which its members' buses and "innocent passengers have become victims of targeted vicious armed robbery attacks" as: Jos-Akwanga-Lafia-Makurdi stretch (especially at Kadoroko); Makurdi-Alaide-Oturukpo Obollo-9th Mile (especially at Ugbokolo); Okene-Lokoja Road; Abuja-Kaduna-Zaira-Kano Highway; and Lagos-Ibadan-Owo-Okene Road.
Okemuo said other routes where robbers have been laying siege on luxury buses and travellers are Lagos-Shagamu-Benin, Benin by-pass (even in the day time); Jos-Nasarawa-Keffi-Abuja Road; and Onitsha-9th  Mile-Obollo stretch.
The ALBON delegation stated: "Indeed, we note with admiration the professionalism, courage and determination the Inspector-General has demonstrated in policing our nation within this short period of his assumption of office.
"We are greatly worried that despite the above commendable efforts of the IG in the fight against crime, the incidence of armed robbery attacks have increased and even extended to day operations. Armed robbery attacks have discouraged night travels and now locked the nation's economy to an eight-hour shift.
This seriously impedes productivity and affects our businesses adversely.
"Regardless of this ugly situation, the association strongly believes that the office of the Inspector-General is capable and in position to put a stop to the menace of armed robbery attacks on the aforementioned roads."