By Aliyu Dangida
Alhaji Muhammadu Abubakar  Badaru is the fourth civilian governor of Jigawa State christened the New World.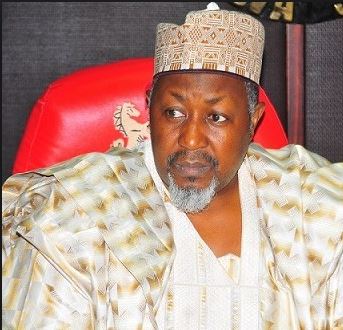 A successful international business tycoon, transporter-cum-oil magnet even before he ventured into active politics, Badaru won the 2015 polls on the platform of the All Progressives Congress (APC), beating a Peoples Democratic Party (PDP) team led by immediate past two-time governor, Alhaji Sule Lamido.
Jigawa citizens received Badaru with high expectations. They expect him to take governance of the state to greater heights on account of the giant strides of Lamido, who transformed Dutse, the state capital, then derided as Local Council headquarters, to a befitting state capital.
The people expected much from Badaru, who they considered as simple, easy going and humble. To those who expected him to be a father Christmas, it is no longer business as usual due to paucity of funds.
Governor Badaru said he inherited a N117 billion debt as against the N13.7 billion announced by the former administration.
To navigate the financial bottleneck, Badaru embarked on ministerial briefing with permanent secretaries and other directors to know the financial situation of the state.
Thereafter, he slashed the monthly overhead cost of MDAs by 50 per cent and equally reduced number of ministries from 17 to 13 and government agencies from 108 to 88.
The move has generated heated debates and side talks among the state workers, who described it as improper.
Indeed, Jigawa civil servants now refer the governor as 'Baba Mai Calculator', the opposition call him 'Baba Mai Awaki and the masses called him 'Baba Mai Gemu' (bearded old man).
His 100 days was characterized by series of criticism from the opposition especially his policy of distributing goats to widows.
His recent appointment of special assistants and submission of list of commissioners to state House of Assembly for screening are also creating ripples. Some claimed that most of the special assistants are incompetent majority of the nominees for commissioners are from the former Governor Saminu Turaki's camp.
This according to political pundits is an indication there is interference in Badaru's government by some chieftains, describing the regime as 'Saminu goes, Saminu comes'.
The governor's supporters said Badaru is not being teleguided. They said he is new in governance that after some time he will change and surprise his detractors.
In spite of the controversies, Badaru, in the last 100 days, has recorded some achievements. They include conversation of some cottage hospitals to general hospitals, some general hospitals to specialist hospitals, establishment of school nursing at Hadejia, rehabilitation of over 200 dilapidated boreholes in Kiyawa and Dutse, restoring electricity supply to Ringim town, which had been abandoned for eights years.
He has also commenced flood control in Hadejia and environs, recruitment of 450 teachers, payment of leave grant to state workers and screening of government employees to fish out ghost workers.
Bello M. Zaki, the special assistant on Media and Publicity to the Jigawa state governor, said the
government is focussed on human development contrary to the former administration that embarked on massive construction of infrastructure while people were living in abject poverty.
He sad that the government, in the last 100 days, has touched the lives of Jigawa people positively in the areas of health care, education, water supply, electricity, youth empowerment and poverty reduction.