BY MARIE-THERESE NANLONG
JOS – Since the advent of the new administration, the expected change in Plateau State is coming slowly.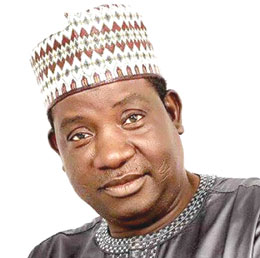 Governor Simon Lalong is yet to appoint his commissioners though he is trying to correct some of the perceived mistakes of the past by working towards getting accreditation for courses in the State-owned University whose two sets of students are yet to graduate from the institution.
The Vice-Chancellor of the University, Prof. Sheni who was sacked by the Jonah Jang administration was reinstated by Governor Lalong and efforts are being made to ensure the institution's records are tidied so that the graduating students can go for the National Youth Service Corps, NYSC.
A major reason for the slow pace of activities in the state is poor state of the economy. Governor Lalong keeps complaining that his predecessor handed over to him an empty treasury as well as a huge debt profile.
Shortly after resuming office, the Governor set a committee headed by his Deputy, Prof. Sonni Tyoden to examine the hand over notes, the committee had submitted its report which indicted former Governor Jonah Jang.
Apart from the probe of the activities of the last administration, the sack of elected local council chairmen and putting in place Transition Committee Chairmen in the 17 local councils, certain changes are gradually taking place. The salary owed civil servants since November, 2014 has been paid up to March, 2015.
Major roads in Jos township are receiving face-lift as potholes are being patched and drainages dug to give motorists relief from the bad roads and unnecessary gridlocks.
However, the rising wave of insecurity which the Governor promised to tackle still persists especially in Riyom and Barkin Ladi local councils.
Despite the imposition of curfew twice in the last two months and committees set up to look into the problems of security, there has been no reprieve yet from isolated attacks, ambushes and killings in the hinterlands.
Meanwhile, the relationship between the Executive and Legislature arms of government has remained cordial. Unlike what happened in the last two months of the last administration when the 7th  Assembly threatened to impeach Jang, the current Assembly seems to have a good relationship with the Governor despite the fact that 13 of the 24 members are from the opposing Peoples Democratic Party, PDP.
The 8th  Assembly so far has supported the Governor as can be seen in the passage of the 2015 appropriation bill presented by the last administration and the approval of the dissolution of the elected council chairmen.
The cordiality may not be unconnected with the fact that the Executive has made available the required number of vehicles for the Speaker who has seven vehicles in his convoy, the Deputy Speaker has six vehicles and each member has a vehicle. However, there are some outstanding salaries owed the members. It is hoped that the friendship will not go sour as a result of funds.