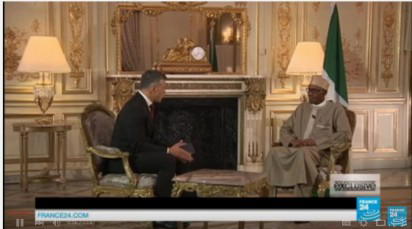 By Ikenna Asomba
Ex-President Goodluck Jonathan's Minister of Communication Technology (ComTech), Mrs. Omobola Johnson, has accused President Muhammadu Buhari of being unfair to ministers who worked hard, but didn't make much noise about it.
Johnson, was reacting to a statement credited to President Buhari, in an interview during his three-day official visit to France, where he stated that it's the civil servants and technocrats who do the real job of governance in Federal government ministries more than the ministers, who he described as noise makers.
The ex-ComTech minister who reacted to Buhari's statement via her Twitter handle @OmobolaJohnson said: "President Buhari is being unfair to Ministers who work hard and don't make noise. The civil service is broken and it needs to be fixed."
However, President Buhari who departed Nigeria for France on Monday, during an exclusive interview with France 24 tv François Picard, on Wednesday, said he intends to stick with his decision to name his cabinet before the end of the month, but however, opined that ministers are only there to "make a lot of noise."
Asked if the absence of a finance minister was affecting the Nigerian capital market and economy, Buhari said: "No. It is what we know –and which we learnt from the western system. The civil service provides the continuity, the technocrat. And in any case, they are those that do most of the work.
"The ministers are there, I think, to make a lot of noise; for the politicians to make a lot of noise. But the work is being done by the technocrats. They are there; they have to provide the continuity, dig into the records and then guide us, [those of us] who are just coming in.
"They have been there, some of them for 15 years, some for 20 years. So I think this question of ministers is political. People from different constituencies want to see their people directly in government, and see what they can get out of it.
"As for the cabinet, I said we will have one by the end of the month, and time flies. The end of the month is coming too quickly for my liking.
"Yeah, I will stick to it. I will send the names to the national assembly."
Reminded by Picard that "some have quipped that the country runs better without ministers", the President said: "When you started introducing me, you said I was around 1983 to 1985. Even then we had ministers. So under this system, we have to have ministers; and we are going to have ministers."