•We must learn to jail corrupt people
•Scores Buhari high
By Gbenga Oke
Obong Victor Attah, one of the country's leading architects was governor of Akwa Ibom State between 1999 and 2007. He was also chairman of the committee on Devolution of Power at the National Conference of 2014. In an interaction with the Vanguard Editorial Board, he gave his views on contemporary national issues.
Excerpts:
What is your stance on the appointments so far made by President Buhari?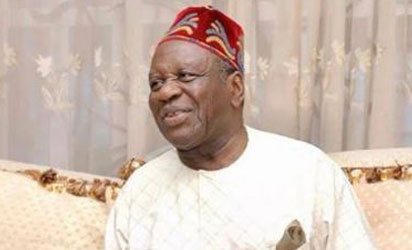 I have not had an opportunity of asking President Buhari why he is making the appointments that look one sided but until I know his reasons, I will find it so difficult to criticize him on the issue. But that does not mean I do not have an opinion on the matter and the way I look at it.
He has talked about the competence of these men. We will watch and see if he will balance the appointments as promised. He made one significant appointment that I like which was the appointment of General Boro as the Amnesty Programme Coordinator.   If he had made a mistake on that, it would have been disastrous but I am glad he did not.
Are the president's statements on the manner of his appointments not contradictory?
It is good you say this because when you base an argument on a wrong premise, you are bound to come to a wrong conclusion. I am not in APC and honestly I do not have the intention of going to the APC. Why would I want to go to the APC? I was one of the 82 signatories who signed a charter to form the PDP.  I went into the PDP from a group called the G34 which fought for democracy in this country.
I was also involved in another group called the PDM which was formed during the 1994 conference by the late General Yar'Adua. I have no reason to say that I want to go to the APC. But I have every reason to stand against what my party often does. As a reasonable human being who is interested in democracy. When I attended a rally for the APC governorship candidate, Umana Umana I said that I was not happy with the way things were being done in my party.
I said that it was for such reasons that some of us who are leaders of the party were not supporting the party's candidate. How can you deny me, a former governor of the state the right to vote and you think I will just keep quiet because it is PDP? There comes a time when you have to rise above party considerations and that is exactly what I am doing. I will be 77 this November, so what do I need a party for?
I am practically disengaging from the PDP because those coming to lead the party are not the kind of people I will acknowledge as my leaders. What party does Chief Anyaoku belong to, what party does Ebitu Ukiwe belong to, what party does TY Danjuma belong to or even General Gowon. Yet you cannot deny their service to this country. Why can't I be in that kind of category helping this country without any partisanship?
So I am not interested in the PDP because I have not seen signs that they want to change. I cannot go to the APC, so I will remain an elder statesman and I will support the right thing this government does and I will criticize when they do the wrong thing.   I have never allowed myself to be tied by party strings.
I went to a PDP BOT meeting once and on the agenda, were three items to be ratified.   And I was angry and stood up and argued why the Board of Trustees should just ratify without any debate or contribution. I called Jerry Gana, who I served under his committee to design the Umbrella which was meant for everybody.
'Today as the highest advisory organ of the party and the conscience of the party, we are being called upon to come and ratify suggesting that somewhere, a group takes a decision and we are to ratify.' I said I want to belong to that group, not just to ratify. That is exactly what is happening with our party.
Even the PDP BOT, how many times in a year do they meet? So, we did not run a party as if it was a party not to mention a People's Democratic Party and I objected to these things and I will continue to object to it. I told myself that rather than continue to object, let me just stay out and be an elder statesman.
I am sure Buhari is having difficulty sifting the wheat from the chaff, because he does not want to make a mistake of appointing people who will not go along with his philosophy of change, so he deals with people who he feels already have this philosophy.
On corruption
I agree totally that we need to clean the polity and sanitize it. I believe probity is the issue rather than probe. If there is probity, nobody will bother about probe. I was reading about a Malaysian Prime Minister who is being accused of taking $700 million, they could get that because they have institutionalized probity. If that had been established and that was the norm, we will not be talking about the need for probe.
So if somebody comes today and says he wants to establish probity as the bedrock for running government, I will support him entirely. I made a statement once that every government office without exception is a like a sea, it is never without debris, but some people allow the sea to gather so much debris that it becomes very problematic.
And once it becomes problematic, the system gets bogged down and that was what happened. Nigeria was bogged down and the President cannot serve in such situations. We were severely bogged down in Nigeria under the previous government and nobody can actually deny it. This is why these probes are necessary.
And for people who are claiming they are being targeted, I actually wonder whether they sit and hear themselves out. President Buhari is probing a PDP government and would you say the PDP government was populated by federal character or APC people. It was rather populated by the PDP people themselves. So if you are to probe, you will end up probing only PDP people and it is because the government was populated by the PDP people.
In that probe, you will find out that a certain part of the country is highly populated in that government, how can you blame Buhari for that? You should blame the person who did not have the federal character in his government because if federal character was in the former government's agenda, then this probe will have federal character.
If it does not, then it means the people appointed were mainly on party level and the appointments were not on federal character basis. So I support this probe and I believe probing must continue until probity is established and when probity is established, then we won't be talking about probe again. I have read in papers about countries jailing their Prime Ministers and I am asking when it will happen in Nigeria?
Just because the prospect of such happening here in Nigeria is not there, that is why we are shouting. What are we shouting about? I am not sending anybody to jail or asking the President to send anybody to jail but believe me, I feel that in a situation where people are found guilty, they should go to jail because if there is probe without punishment, the impunity will continue.
But what would you say to the fact that some of those who helped the president to victory were indicted in the Halliburton scam and are walking freely even why their accomplices in the United States have been punished?
Who should probe that? Buhari before he became President or the last government? That is why I said probe must be continuous. If the last government had probed Obasanjo, we would have known what happened with the Halliburton scandal. Nobody investigated several other things that happened under the leadership of Obasanjo. Is that Buhari's fault and is that the reason why he should not investigate some of the actions of the last government?
There is this puzzle in the mind of Nigerians that really bothers me. Some people say you can't probe just the Jonathan administration; you must go back to past administrations. Some people are saying you are not to probe, just govern. Let the man probe and if along the line, he found some other things, I am sure he will ask questions.
As a PDP member, are you in anyway saying the PDP should have probed another PDP government?
Definitely because I said a current government should probe the last administration if he finds out that such government has done wrong. Until probity is established in this country, nothing will work. I expect Buhari to be probed when he leaves office too. I want to believe it could be possibly an APC government taking over. So if they find that Buhari has done something wrong, they should please probe him. If we do not establish this culture of probing government and jailing people, we will never move forward.
Your own administration in Akwa-Ibom State should have been probed.
Akpabio did so. He created several committees to probe me and by the time they sat and realize there is nothing to probe, they disbanded them. I challenged him to and he did. And I expect this new government in place rather than hiding, they should make such moves. When we have a government that we want, I believe things will be set right in Akwa-Ibom State. We were not allowed to vote and what happened in my state was the worst election in this country.
So if they allowed us to have an election, we will elect a government that the people want and we will insist that there must probe the last administration. When I went to Umana Umana's rally, I made a statement that as Governor of Akwa-Ibom state for eight years, the total amount of money that came to my government was N542 billion.
Luckily for me that rally came about just two weeks after Akpabio presented a budget for this year and the budget was more than N570 billion. So you people have to get things correctly.   Akpabio received over N3 trillion as against the 542billion that I spent and people are clapping and singing uncommon transformation. The only uncommon development that I see in the state is that Akwa-Ibom has been transformed into an uncommon poor state.
But why did you not vote?
I was denied the right to vote. I went to my polling booth on that day and I was denied voting and this is on record. It was part of the evidence I presented   at the tribunal. I introduced myself as a former governor and brought out my PVC and we said we want to be accredited. But we could not vote and the INEC officials told me that people came with guns, machetes and  shot in the air and carted election materials away from the distribution centre.
What role will you say Obasanjo played in the rise and fall of the PDP?
Let me be honest with you, the day I will   talk about the PDP, I will bring facts and figures. Obasanjo should not have been President in the first place. Because we had said that you cannot be a presidential candidate unless you win your state just as you could not be a governorship candidate unless you win your local government. Those things were compromised and led to total loss of integrity. That is why the party became what it is.
When you said the President is looking for upright judges, do you mean that he is looking for a judge who will convict people?
No.   It is because it has been established by the judicial commission that some certain judges are corrupt. What I am saying is that he is looking for upright judges who will not be corrupted in the process of trial. If you think that the monster called corruption is like these things in front of me, you are joking. It is a monster and it is kicking back so hard. The noise in the newspapers is because people are trying to scuttle the process.
Some people even say they fear for Buhari's life because certain things have shown that crusaders like him, monsters try to overwhelm them. So he is looking for upright judges who will not be corrupted but those who will be bold enough to bring charges when necessary. To think that probing will not impact on governance is wrong and I will tell you why. Even if you are the greatest sculptor in the world, you cannot create a masterpiece out of a rotten wood.
So you need to get this wood into a firm condition before you can sculpt it into a masterpiece. The country is so rotten that there is nothing you can do without first probing some decisions that have been taken. For somebody to say that probing is not part of governance, I disagree totally with that.
Based on what you have said, things became so bad under the leadership of your party. What will you say to that?
I am in the process of telling them that I am disengaging from the party. But it is still my party for now.
What was pushing PDP chieftains to be compromised?
Corruption and impunity. Those were the things that were pushing them.
Did you have any dealing with Dr. Jonathan as President?
We only met when we had meetings of the Board of Trustees.   You can check, I never attended any of his rallies and I told him why I will not attend. I attended the declaration at Eagle Square but never attended any of the rallies. I did not attend the zonal rally in Port-Harcourt and the state rally in Uyo.
Why did you not support him as somebody from the South-South?
When the man from South-South says people like us can't contribute anything, would you or can you force yourself into the villa? We had no access to the villa.   We had no opportunity to contribute anything. That was why we sat and watched.
Can you say that the money that has been channeled to the South-South states equates with development on ground?
I think you should answer that. You knew Akwa-Ibom far before I became governor, you know that for eight years that I was governor, I received about N542 billion and you saw what happened at the end of my tenure.   The last administration received over N3 trillion and left a debt profile of about N300 billion.
How will you review Buhari's activities 100 days since he became President?
When I became governor of   Akwa-Ibom State and people started talking about 100 days, my position was that nobody elected me to govern for 100 days. So don't talk about 100 days, it is possible to use the first 100 days for a smooth take-off. So I don't really lay much emphasis on this 100 days in office.
What has changed at the federal level so far?
If nothing else has changed, I will say without fear that the attitude of Nigerians has changed. Everybody is so afraid now to do the things we were known for. If you say nothing has changed, you can't be serious. The PDP did not give you power for 16 years, and you are expecting the APC to fix the country in 94 days.
It takes a long time to achieve those things. But remember what I told you before that if you want to be a good sculptor, you need to get a good wood.
Many Nigerians have been calling on President Buhari to implement the recommendations of the National Conference. What is your take on it?
I had the privilege of attending the 1994/95 constitutional conference.   I also attended the National Conference of last year and headed what everybody felt was a make or break committee, which was the committee on power shift and revenue sharing formula. The   recommendations of that conference are very fundamental. The root of what a federation should look like is contained in that recommendation.