By Ifeanyi OKOLIE
On Saturday, February 16, 2013, Henry Chibueze, a notorious kidnapper terrorizing South East and South South parts of the country, stormed the home of his girlfriend, Sandra Ijedinma, at Igando area of Lagos State, with an AK47 assault rifle and opened fire on everyone present in the apartment, killing his girlfriend, her elder sister   Praise Ozor,   and her two children.
Not satisfied, Henry proceeded to a nearby street where one of Sandra's elder sisters resided and killed the woman and three of her children, before fleeing.
His anger was said to have been that Sandra, who was an optician with Madonna University, had called off their relationship, when she learnt that   he was a kidnapper.       Sandra's twin sister, Katherine who sustained a bullet would during the attack had told vanguard in 2013 that the assailant was   familiar with everyone in their family but nobody knew he was a kidnapper . She explained that her late sister used to visit Henry at his base in Delta State and in one of such visits, some heavily armed men stormed Henry's apartment, manhandling Sandra in the process.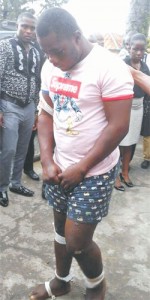 She added that the armed men reportedly told Sandra that her lover absconded with their share of a ransom paid to them for one of their  kidnapping exploits, threatening to wipe out all his (Henry's) family members if he did not pay them. Thereafter, Sandra informed her family members in Lagos of what had happened and they rushed to Delta State to bring her to Lagos for proper treatment. But while she was receiving the treatment, she called off the relationship and Henry; feeling betrayed, stormed their Lagos home and killed people while Katherine narrowly escaped death.
The police in Lagos went all out in search of Henry. Vanguard gathered that operatives of the Special Anti-Robbery Squad, SARS, who were then headed by Sp Abba Kyari, trailed him to Abia, Delta and Rivers State, where they rounded up some of his close friends, relatives and seven members of his gang who were behind the kidnap of a British national, Diction Lee, few minutes after the Briton arrived at the country. They kidnapped him on Airport Road, Ikeja.   At that point, it was established that Henry had escaped from the country and was based in Ivory Coast.
But while the search for him went cold in Lagos, Henry, was said to have regrouped with his gang in Imo State and they coordinated several kidnappings in the South East and South South, where he kidnapped over 200 persons, killing most of his victims, including the wife of a royal father in Imo State and an official of the Imo State Environmental Transformation Commission which yielded him N50m ransom.
However, luck ran out on him, last weekend, when he attempted to kidnap the tribunal Judges, handling Election Petition in Imo State, at their lodge, in Disney Hotels, along Onitsha -Owerri Road. Operatives of the Department of State Security, DSS, acting On a tip-off swooped on him, but he managed to escape with bullet wounds which he had gone to treat in the house of his elder brother's wife, in Ohafia, Abia State, where men of the secret police eventually apprehended him.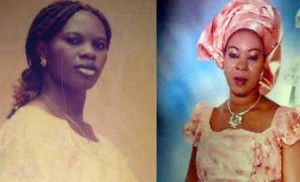 He   was arrested along side an army deserter, Akeem Bello, from Kwara State, who abandoned his duty post at Maiduguiri where he was posted. Fear of the activities of the Boko Haram sect probably informed his action. A native doctor, Dan Elengi, who is said to be the proprietor of a popular hotel at Ohii in Owerri Local Government Area,   of Imo State was also among those nabbed.
The 28-year-old man, who is an indigene of Nwangele Local Government Area of Imo State, confessed when he was paraded before the Imo State Governor Rochas Okorocha, that he operated from Abidjan, Cote d' Ivoire and he killed his girl friend and members of her family because she stole his N45million, after he had opened a shop for her in Aba.
Meanwhile, relatives of his victims have been thrown into celebration following news of his arrest. They called on the Imo State Government to ensure that Henry who is also known as Vampire is prosecuted judiciously.   Ekene Ozor, the husband of one of   Sandra's sisters who was killed on the day of the attack wants Henry to pay for his crimes. "That man is evil. He robbed me of my wife and two children and robbed my in-laws of eight members of their family.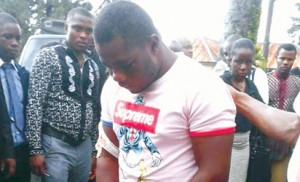 But my God told me that he would not escape judgment. I am grateful to God for his arrest and I commend the efforts of the Nigeria police especially, the Special Anti Robbery Squad SARS, Lagos State Police Command, who first handled my case, the DSS operatives for their continued efforts to apprehend this heartless criminal. I wish to commend also the governor of Imo State Rochas Okorocha, for his efforts in the arrest of the deadly gang of killers. Days after the attack on my home were highly traumatic. I had seven corpses to deal with at a time and they were all in the mortuary. I was the only one taking care of my remaining children and
I passionately wish to appeal to governors Rochas Okorocha, Ifeanyi Okowa, Akinwumi Ambode and other governors in the federation and well meaning Nigerians to come to my aid as I feel very concerned about the education of my remaining children and their welfare.
Things have tough for me, my little children.   We are still having the psychological pain of the attack of Henry. We have been haunted by the fear of another attack by the serial killer. There have been fears of going out freely because of the horrifying threats from the serial killer and his cohorts. Consequently, I'm indebted to the tune of N7.2 million excluding properties sold to meet up with bills, drugs, surgery of my wife's younger sister who survived gun shots.   It is by grace of God that I am still alive because it made me hypertensive since then."
Subscribe for latest Videos