By Uche Onyebadi
DONALD John Trump is rich, a billionaire, and he brags about his immense wealth. If you listen to how he flaunts his wealth and positions himself as the epitome of the American energy, industry and go-get-it mentality, you'll be forgiven if you mistakenly classify him as the richest man in America, if not the entire world.
But, he isn't. In fact, he is nowhere near the top league of billionaires in the United States. With a fortune of $4.1 billion according to Forbes magazine, he is no match for Africa's richest man, Nigeria's Aliko Dangote, whose net worth is $21.6 billion.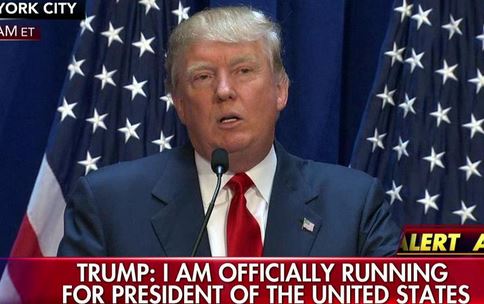 What inflates Trump's image is his loquaciousness which, combined with being a television personality, makes him appear larger than life. But, it is his recent foray into U.S. presidential politics that has catapulted him to the centre stage of American talking points. Donald Trump has plunged headlong into the turbulent waters of American politics. And, like everything about Trump, he has come out swinging with the boldness and fearlessness of Ares, the Greek god of war, violence and destruction.  But unlike the petulant Greek god, Trump's theatre is politics where he is in fact not far from being a novice.
If you have ever had an obstinate fly invade your space and rest on an inconvenient part of your body where killing it might hurt you, then you have a picture of what Trump is doing to the Republican Party. Fact is, Trump was supposed to be one of those people who blow hot in every presidential election cycle and quickly disappear into political obscurity. The problem is that he has refused to bow out of the stage. Indeed, current polls show him running second to Jeb Bush, the son and brother of two former U.S. presidents.
Trump is loving and relishing his moments in the sun. He has even shown indignation at being behind Jeb Bush. At his rally last Saturday in Arizona, which had to be moved to bigger arena to accommodate the unforeseen surge of people who want to hear him, Trump arrogantly wondered aloud: "How can I be tied with this guy (Bush)? He's terrible.
He's weak on immigration." He left the podium bragging that "The silent majority is back, and we're going to take our country back." That rally in Arizona is symbolic of what has propelled Trump to the forefront of the race to the White House on the platform of the Republican Party.
Although he mentions a few other issues as he vociferously talks about being the best candidate to restore the lost glory of the United States, his main platform is immigration and how America has allowed itself to be infested with Mexicans who cross the border into America with all sorts of badges of deviant behaviour, prominent among which is that of being rapists!
To use such racial description quickly earned Trump the ire of people with whom he does business. Univision, the largest Spanish-language television broadcaster severed ties with Trump saying "We will not be airing the Miss USA pageant on July 12th or working on any other projects tied to the Trump Organization." Trump is a co-owner of the Miss Universe and Miss USA beauty pageants. NBC Universal which owns the Apprentice, a popular television program which brought fame to Trump, also cut ties with the man, citing his "recent derogatory statements" about immigrants as the reason for its action.
But, trust Trump. He has arrogantly brushed aside the obvious business losses and promised to march on with his anti-Mexican immigration crusade. Before touching down in Arizona for his rally, Trump had a stopover in Los Angeles and Las Vegas where his message was:  "This has become a movement because people don't know what's happening. We can't be great if we don't have a border."
Trump's anti-immigration rhetoric is believed to be hurting the Republican Party which has been striving to find a way to win the Hispanic votes that are crucial in the forthcoming 2016 presidential election. This concern prompted Republican Party chairman, Reince Priebus, to call Trump last week, and urges him to tone down his anti-Mexican-immigration vitriol. But, Trump does not appear to heed the plea.
Immigration tirade
In about a month, the Republican Party will have the first television debate among its presidential hopefuls. Fox News which is hosting the debate, has said it will only give its podium to the ten top candidates at the polls. The fear is that by playing to the gallery with the "popular" immigration tirade against Mexicans, Trump has found his way into the top ten people for the debate, thereby denying more electable competitors a place on the debate podium.
"To make America Great Again"; that is Trump's mantra and slogan. This is the canopy he uses to hurl innuendos and insults at everyone and everything that stands in his way.
To him, "(Jeb) Bush is weak on immigration. Forget about his stance on Common Core, which is a total disaster." Rising star senator, Marco Rubio of Florida, is "extremely weak" on immigration and warned that "If he ever got elected, you would have people flown across the border." Turning to Hillary Clinton, Trump who donated $100,000 to the Clinton Foundation, said she is the "worst secretary of state in the history of the United States."
He has harsh words for people and nations outside the U.S. He brags that he would build a wall to prevent criminals and rapists from Mexico crossing into the U.S., and would force the Mexican government pay for the construction. He promises to force China to its knees economically.
He has warned ISIS that as president, he will "bomb the hell out of those oil fields" that make them money, and unleash the U.S. firepower on them until they surrender. And when it was pointed out to him that companies that cut ties with him are hurting his business, a cocksure Trump said this:  "Here's the good news. I'm very rich. The money you're talking about is a lot but it's peanuts for me."
In 2008 and 2012 Trump tested the political waters by spearheading the campaign that Obama is not a U.S. citizen. That strategy did not gain him any substantial traction. For 2016, he seems to have found his magic in the use of anti-Mexican-immigration vile words to make himself politically relevant.