By USMAN ABUDAH
Individuals are gifted in rather queer callings in life that make them great while living: some are educated to the highest levels and are known for either amassing astonishing wealth and they are talked about by the idle ones that day dream, wishing how they could also be equally lucky to be universally known and popular, perhaps being listed in their local books of record, assuring themselves dreamingly,that poverty will never near their families forever and ever.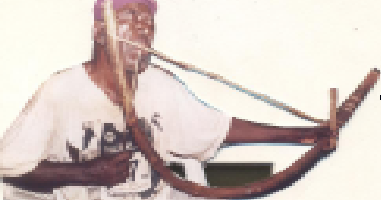 Some, whose concepts cannot be identified or linked to the folktales of how people struggled to attain such embellishing successful levels that they would never be in want.
But story-telling format by gifted creative disciples like Late Ighegwe Odion whose passage on January 10th, 2013 (2 years by January 10th 2015) would ever be remembered by those who were fortunate to have known him, would realize a basic attitude of his "that one must not grumble those who have or lament why our Creator didn't enrich those he allowed to be born into this earthly world".
Ighegwe, as he narrated to this writer, fifteen year ago how he was brought to Auchi from Fugar village to live with a princess of Auchi Kingdom, said he "wont have regretted coming to Auchi as it was a city to him in comparism then to his village: "I had high hopes of being given the opportunity of being sent to school as this would make me to be better than my village age group members and also specifically looking forward to be a different folk whenever I would be home on holidays. This didn't turn out as I had expected".
Ighegwe in his lengthy
narration which I don't now find soothing to re-call here, had an assuring format of recalling his level in life that equally held me to agree with him that "any level one finds oneself in life, it is the destined path and any effort by one to cause personal strains by blaming anyone, would be frowned at by "Oghena" (Almighty).
He did return back to his Fugar home base and started farming in an assuring diction laced in a soothing and self acceptance of the Almighty's decision on one's fate, he returned back to Auchi and developed a lamentational approach of story-telling coupled with touching lyrics that unfold pain in the heart and at the end of such an exercise, a situation of relief is created.
Along the line, he constructed "Alido" an indigenous musical instrument, an imperative instrument that goes with story-telling, this was how Ighegwe moulded an image around himself and it made him very popular in Auchi Kingdom.
He would tell stories of great people of the past, based on re-collective folklores. When he picks a song to depict a specific situation, either of joy, pain, humour and abuse, his dexterity style stands him out as a teacher, philosopher and when he takes another angle to depict terror and fright, he again unfolds his endless gift as an embellished human being who doesn't care what one has, or whom you are, telling the audience that when one's time comes, no doctor would save one as we would all be laid into the six feet grave apartment.
I had tried through his tutoring to learn how to pluck strokes on the instrument for quite a period with much seriousness, he looked at me on each occasion and smile: "try, you could get it one day"he had said and went further to reveal clearly this sort of calling has to do with personal experience in life, particularly when one had undergone torturing situations in life that melt into lamentations and pains, all bothering into one's veins that were mostly agonizing.
When he unfolds a wailing stanza, the audience would scatter, some would warn "Ighegwe, don't drive one into doing something inexplicable".
When Nobel Laureate Prof. Wole Soyinka inaugurated the Afenmai Heritage and Cultural Heritage in March 2010 on this writer's invitation at Auchi, after watching Ighegwe's performance on the Alido, he insisted that Ighegwe must be among my invited contingent, coming to the maiden edition of Lagos Heritage Festival which was done: the 42 member contingent to Lagos was quartered at the Kilo Hotel, Surulere.
We all had comfortable accommodation. After our return from an outing to Badagry, I dialed Ighegwe's room intercom number to ask he was alright. It rang for over five minutes and it wasn't picked. I was scared and called my friend, Mallam Braimah Musa (a.k.a Barrister), we rushed to Ighegwe's room, knocked the door and he opened looking disturbed and I asked him if he was alright and why he didn't answer the telephone.
Ighegwe went to his bed
and pointed to the air-conditioner that was oozing out a cooling effect. "that thing is disturbing me and I don't like it", he complained.
I told him how to switch it off. I took him back to the intercom why he didn't answer, Ighegwe hissed: "that thing would also not let me sleep."
"When you pick it, drop the end with the rope downwards and put the other end to your ear" we all laughed.
These were the qualities of a plain and realistic human being, who never pushed himself above his capability level in life.
Ighegwe was a self-tutored artiste of no mean level.
Abudah, a journalist and documentalist, wrote in from Benin City, Edo State.