By Ebele Orakpo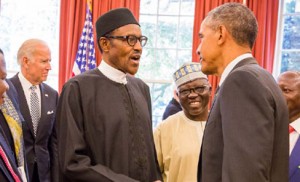 "Ha! Our president has goofed again," said Simon in the CMS-bound commuter vehicle. "Please, leave him alone. His speech writer and media people should handle all that and let him face the business of governance squarely," said Taju. "You sure say im get speech writer? He wants to run a lean government so I will not be surprised if he has none. By the way, what was the goof apart from the All Nigeria People's Congress? asked Ken."
"Noo, that one don pass nah! No big deal. After all, there was All and Congress. The goof was when he said US is aiding and abetting Boko Haram by refusing to sell arms to us in the war against the terror group," said Simon. "Oh, I like President Buhari's boldness and bluntness. He was bold enough to say it the way it is, period! So how is that a goof?" asked Taju.
"The Presidency denied it and apologised to Obama and the Americans. They said PMB only told them that their application of the Leahy Law, which prohibits sales of certain weapons to countries whose military are accused of human rights violations, was hampering the war against terrorism ," said Simon.
  "Why do we always apologise for something we know to be the truth?"
asked Taju. Replied Simon: "Because from what I heard, heads are going to roll; whoever slotted in that Leahy law into the speech will have to pay for his sins."
"It's all about diplomacy. These are the days of walking on eggs. Even President Obama is walking on eggs too. An American journalist recently lashed out at him for describing the incident in which four US marines were shot dead in Chattanooga, US by a suspected terrorist as a 'workplace violence' just to sound politically correct, instead of calling it what it is, a terrorist attack on US soil and military centres. So PMB should try to be politically correct at times," said Ken.
"As far as I am concerned, it is double standard on the part of the US. After all, we all hear of the human rights abuses perpetrated by its Armed Forces. Ask the Iraqis, those at the Guantanamo Bay and others. So they should stop that crap about human rights abuse. Some of the so-called human rights abuses by our soldiers were perpetrated by the terrorists in their usually incomplete military uniform.
They put on military camouflage and then put on slippers. They upload the videos and Amnesty International swallows it line, hook and sinker without verifying the authenticity. They close their eyes to the atrocities committed by Boko Haram. Please, tell us something else," said Stella.
"Where do the terrorists get their weapons from?" asked Simon.
"I wonder oo. Must we go to the US for arms? They denied us under GEJ and the man went to South Africa.We can get from China and Russia and we can make ours. Whatever happened to DICON and our Army engineers and inventors?" asked Ken.
"Seems the Boko guys have regrouped and restrategised and came out stronger. I wonder what happened to the tempo and the zeal of the soldiers just before the inauguration of the new government. At least, they were gaining so much ground and suddenly, we seem to have gone back to square one. The terrorists are maiming and killing people; burning and sacking villages daily. It's time to wake up," said Stella.