By Uche Onyebadi
A DECADES-long friend in Lagos was furious when President Buhari's visit to the United States popped up in our discussion. She was too peeved to see any positive thing about the state visit.
To her, it is rather a meaningless jamboree when there is work to do at home. While there is merit in the argument that President Buhari should stay home and address the fundamental national issues he ought to have anticipated when he was campaigning for office, I endorse his trip to the extent that it might help him steady the zigging and zagging approach his administration appears to have adopted on matters of state since he was sworn into office.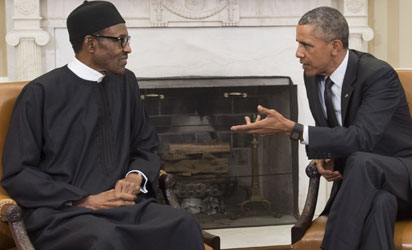 A number of lessons come to mind. President Buhari must have noticed that upon arrival in the United States, very few people appeared to care about the fact that he was in town. There were no school children and indolent state officials to line his route to the White House, waving at him in an exhibition of those ceremonial bunkum he was used to in his first life as Nigeria's military leader, and now that he wears the civilian presidential paraphernalia. Americans are too busy organizing their lives to spare some time to engage in such spectacle.
Such enthusiastic welcome are spared for sportsmen and women, film stars, artistes and people like Pope Francis whose presence and speeches touch hearts across national boundaries. Not even the media in the US will celebrate Buhari's presence in their country in any substantial manner. A mention here, and an acknowledgment there, is all Buhari will get from the likes of the New York Times and CNN. Most certainly, his departure will be unsung.
Lesson? If you want to excite Americans, prove and establish yourself first at home. That is how you will earn their accolade and endorsement. If your trip is to embellish your emptiness, then try another country. Americans have little enthusiasm for non-achievers.
If you visit without solid credentials, some of them might even translate such visit as another form of attempting to sponge off the largesse of the American people and their government. And, many don't like that impression. That partly explains why a political nonentity like Donald Trump is riding the waves in popularity by pretending to be the man to cleanse the country of immigrants who come to feed fat on Americans' toil and sweat.
Although President Buhari is relatively new in office, I believe his handlers (aides) are already seeing Nigerian media professionals as terrible irritants. Unfortunately, his government no longer has the magic wand to introduce another form of Decree Number 4 of 1984 which his administration used in his previous life to silence any journalist who published or broadcast anything that ridiculed a public officer. If Buhari should take a few minutes to watch channels like Fox News and other conservative-leaning media outlets, he might count himself blessed and lucky that Nigerian journalists treat him with kids' gloves.
At a news conference addressed by President Obama last week, a Fox News White House reporter blatantly ignored the unprecedented an immensely important nuclear deal reached by the Obama administration and other countries with the Iranian government. The reporter's question was why President Obama felt contented about the deal while four Americans languished in Iranian jails. A manifestly frustrated Obama dismissed such characterization as "nonsense." I wonder how Buhari might have handled that ignorant and  insulting innuendo that was packaged as a question.
 Insulting  innuendo
Lesson? The media's role is not to praise whoever that is in power. And, whoever that is in power should not expect journalists to become cheerleaders. Indeed as a student, we were taught that journalists should strive to comfort the afflicted and justifiably afflict the comfortable. Hopefully, part of the briefings President Buhari should have obtained before embarking on this trip to the White House should be about expectations from the populace about people in power. Here, people expect performance from their leaders.
Lesson? The expectation in a good democracy is that people aspiring for leadership ought to know what problems their constituencies face and how to deal with them before assumption of office. The presidency is not a technical school where you go to learn the knots and bolts of say, carpentry or bricklaying.
Today, the US invests huge resources in keeping its citizens from harm. It is obvious to everyone that the US intelligence agencies are at the top of their game in trying to prevent acts of terror on their homeland. President Buhari should use his trip to learn that as long as Boko Haram militants keep killing people with brazen recklessness, platitudes and sacking military officers will not be enough to assuage Nigerians.
There are other lessons President Buhari could learn from his hosts, such as working to make Nigerians feel proud of their country, the way Americans take pride in their country. If after his visit, President Buhari retires to his Aso Rock enclave and continues to fan the impression that he is a "sidon-look" or "baba go-slow" leader, then Nigerians should truly lament because wota don pass garri.
Subscribe for latest Videos