By Ebele Orakpo
The change we seek must start and end with us. We always look for change from outside, that is not the way to go," said Ify, a commuter in the Tin-Can-bound commuter vehicle. "Don't expect President Muhammadu Buhari and his team to perform magic," said Bola. "Ah, we expect nothing less oo. After all, they made all the promises with their eyes wide open. Nobody forced them to make promises they knew would be very difficult to fulfil; so since they have made promises, they have to fulfil them," said Fred.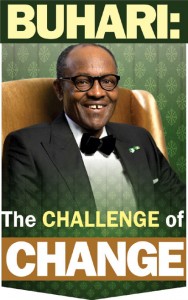 "Gbam! No long story. Nigerians are in a hurry to see results," said Peter. "Reality check number 1! If we, as individuals refuse to change, nothing will change. So first of all, we must begin the change from ourselves. We must change our mindsets and attitudes," said Ify. "But Buhari did it before and I believe he can do it again," said Peter.
"Yes, he did it with an iron fist backed by decrees but this time around, we are in democracy and it is a different ball game altogether. The typical human being, especially the Nigerian variety, will only change by use of force; you know: threats, guns, whips, etc. If you intend to change him by laws, you are wasting your time. So that is why Buhari's method worked 30 years ago as a military head of state but today, I only pray he gets all the cooperation he will need from the people to succeed, " said Agnes.
"As I said earlier, the change you desire starts with you. If we as individuals will play by the rule and do the right things in our little corners, we will be able to get the desired result. As an individual, do you do your job diligently or you lie, cheat and cut corners? To us, those are not part of the huge monster called corruption. What time are you supposed to resume at work and at what time do you get there? You resume at 8.00am and you get there at 9.00am but sign 7.58am anyway.
Is that not part of the corruption?" asked Ify. Continuing, she said: "As the adage says, little, little drops make the mighty ocean. So if we can change in our little ways, I believe strongly that Nigeria will change." "Do you perform your duty and expect gratification at the end without which you may refuse to do your duty the next time and hoping Nigeria will be corruption-free? You see, it's always easy to accuse others of corruption; yet, we are doing the exact thing albeit on a smaller scale.
"So if we look at the nitty-gritty of corruption, we are all guilty so we should all repent. If individuals change, families will change and then communities will change, towns will change, states will change and ultimately, Nigeria will change," said Agnes. "Instead of criticising Buhari, we should all join hands to help him succeed," counselled Bola.
"See hypocrisy. So now we should be patient and support him? Did he extend such to his predecessors? No! So with the same measure he and his party measured to others, will we measure to him; so they should all get ready," said Fred, adding: "I actually heard one of the most ardent abusers of GEJ saying we should be patient as GEJ gave him the handover notes just a few days ago so he needs time to study them."
"Oh really? He's been around long enough to know what is wrong with Nigeria and he should have mapped out strategies of tackling them by now, so what are we saying? " asked Agnes.
"My own na to siddon look," joked Peter.