By Donu Kogbara
Last week, Nyesom Wike,the Governor of Rivers State, ordered the forcible confiscation of official vehicles that had been allocated to Ibim Seminatari, his predecessor Rotimi Amaechi's Commissioner for Information.
Needless to say, news reports (and accompanying photographs) relating to this dramatic vehicle seizure hit the headlines and are being hotly discussed by newspaper readers and people who frequent online websites like facebook.
Then, earlier on this week, it was announced that Wike has set up a panel to probe Amaechi. And another print/broadcast/social media frenzy ensued.
Several responsible and respectable Rivers indigenes have contacted me in recent days to say that they are tired of – and embarrassed by – the never-ending theatricals that have turned our state into a circus that provides the rest of Nigeria with lively entertainment. And I know exactly how they feel.
For the past couple of years, Rivers State has been in perpetual turmoil, largely thanks to the former First Lady, Dame Patience Jonathan, a native of the state.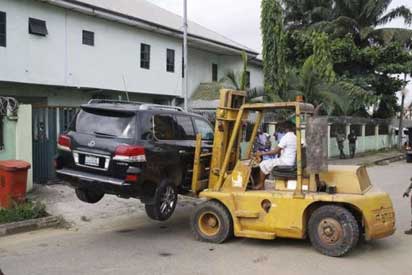 Her grudge against Amaechi and toxic, confusionist assaults on his administration caused so much grief, destroyed her husband's relationship with a Governor who had helped him conclusively win the 2011 election and attracted a vast amount of unconstructive attention, globally as well as within Nigeria.
She persuaded Mbu Joseph Mbu, the then Commissioner of Police, to side with her; and he enthusiastically threw himself into the war against Amaechi and gleefully inflicted several well-publicised indignities and illegalities on him.
Dame Patience also secured the support of Wike – who had once been Amaechi's bosom buddy and Chief of Staff. Wike was by now the Minister of State for Education; and when he decided to turn on his ex-Oga and   partner with other anti-Amaechi elements, the wahala escalated alarmingly.
In 2013, a bunch of Madame's sidekicks invaded the State House of Assembly building in Port Harcourt in a bid to impeach the Speaker and Governor. Videos of the terrible fight that ensued were beamed around the world to millions of fascinated viewers.
And I will never forget the day I attended an APC rally in Mrs Jonathan's home town (Okrika) and nearly lost my life when thuggish PDP/Jonathan fans, who strongly objected to our presence, shot at the crowd of Buhari supporters.
I fell over and was trampled on during the desperate stampede to escape from the bullets that were ricocheting around the venue. And I only survived to tell this tale because a very kind Somebody I didn't know dragged me to safety.
But others were not as lucky as I was. Casualties included a policeman who died during the fracas (I still have nightmares about seeing the poor man's cold corpse stretched out in the back of a pick up). And a journalist was stabbed.
Needless to say, this shocking incident generated a lot of horrified media coverage; and I added fuel to the publicity machine by expressing my anger about the violence to which I was subjected in this column and granting an interview to Al Jazeera, the international TV station.
Meanwhile, thanks yet again to the Amaechi/Jonathan quarrel – and bitter disagreements about whose candidate should or should not be appointed as our Chief Judge – courts in Rivers State were shut down for more than a year.
Now Wike has finally (following elections that were nowhere near free and fair) achieved his ambition of succeeding Amaechi. But the drama is far from over.
The APC is planning to challenge his victory at an upcoming tribunal; and he is retaliating by lashing out at Amaechi and harassing some of his loyalists.
When will this warped, depressing, tumultuous, long-running Nollywood movie end? When will Rivers State quit being a source of feverish gossip and avoidable controversies…and cease to be a cause celebre for the wrong reasons?
Amaechi is my friend. And a real friend tells you the truth. And, to his credit, he never complains when I say that he is not a saint and has made mistakes.
But Wike is also not the Archangel Gabriel by a long shot! And I wish he would ditch Dame Patience's destructive script and resist the temptation to play a poisonous and childish tit-for-tat game that will not only keep our state in the spotlight for negative reasons but add no value to his existence or anyone else's.
I and many other Riverians have had enough of the constant commotion! And our distress about the recent past and status quo is not linked to our political affiliations or personal interests. Some of us are PDP and chums of Wike. Some of us are APC and close to Amaechi. But such divisions do not matter to us within this context. We are all in the same camp when it comes to simply wanting the best for Rivers and praying that our state can move forward peacefully.
If I were in Wike's shoes, I would forget about victimising my opponents, calmly concentrate on governance and prove my critics wrong by performing well, so that if the tribunal eventually decides that the guber election was flawed and must be re-run, I can stand a chance of winning the re-run fair and square.
A reader's response
Last week, I told you about a pal who cheated me and said that we should stop delegating full responsibility for corruption eradication to our leaders and punish dishonest folks whenever we encounter them in our day-to-day lives.
I received several responses but only have the space to publish one:
From: "sparks99@hotmail.com" sparks99@hotmail.com
You referred to your former friend's underhand behaviour, which sadly to a large extent mirrors the crass misdemeanours inherent in Nigeria as a whole. And I keep telling people that corruption is a grass-root vermin.
Corrupt leaders started out as "followers" who may have hidden their corrupt tendencies until they assumed positions of power.
And there are many others who just haven't been given the opportunity to showcase their corrupt tendencies. Does this make them any less corrupt?
The mechanic who removes component(s) from your car to make sure you come back for additional repairs is what? The domestic housemaid who nicks her boss' change when sent on an errand is what? The businessman who inflates his contract tender for multiplied gains is what? The black marketers tripling the price of petrol to cash in on the recent scarcity are what? The list is endless.
And the common denominator here is that all of the above are the normal everyday people we deal with on a regular basis. So it's not just the Nigerian leadership that's corrupt. The followership is just as soiled, if not worse.