By Ebele Orakpo
''I think the first duty of the incoming administration should be to remove fuel subsidy. Enough of the thrash. For how long shall a few people continue to hold us by the jugular?" asked Jude in the CMS-bound bus. Transport fare has hit the roof due to fuel scarcity. "That will be starting on a wrong footing. Labour will not allow it," said Lucky.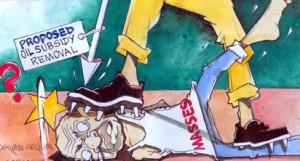 "Not just Labour but the masses. Shebi GEJ tried it and the masses resisted him until he backed down. If they remove subsidy, what will the masses benefit as nationals of an oil-producing country?" asked Bunmi. Asked Jude: "So the masses are benefiting from the way things are now?" "Yes, at least we can still afford to buy fuel at reasonable price but if they remove the subsidy, many of us will not be able to afford it and it will affect every aspect of life; so they should leave it the way it is," said Bunmi.
"That is not true. Many of the so-called oil marketers collect subsidy without importing any oil. So it is the usual insincerity on our part. Again, government is to be blamed because they should have a way of ensuring that the suppliers actually supplied the quantity they are being paid for," said Toby. "But since it seems almost impossible to do that, they should remove the subsidy and allow market forces determine prices. Let the marketers import from wherever they want, and sell at whatever price they want.
The consumers will choose whoever they want to patronise," said Jude. "Yes, like what happened in the telecom industry. Remember that SIM cards were going for as high as N16,000 at the initial stage, but today, thanks to stiff competition, SIM cards are free, and you can get a brand new phone for as low as N1,500, which was unthinkable some few years ago. That is what will happen in the oil sector if subsidy is removed," said Toby.
"But why are we so fixated on importation and nobody is talking about repairing our refineries and building new ones?" asked Lucky. "My brother, the cabal will frustrate every attempt at rehabilitating the refineries because that will make them lose their business," said Nike. "We are not a serious lot! Otherwise, we would have gone past this stage. I keep wondering why our security agencies keep arresting and destroying the wares of local refiners.
In saner climes, since these people are able to do what government could not do, the best thing would have been to get them together and pick their brains, get them to tell how they are able to refine crude using local technology. You know, redirect their skills, equip them with the basic things and let them refine whatever quantity they can for sale," said Juliet.
"They are illegal refiners who are supposed to be punished," said Bunmi. "That is where we get it wrong! Yes, they are operating illegally but we need their knowledge and expertise; so guide them aright. The whites will pardon a very intelligent criminal if his knowledge will help the society," said Jude.
"Some very powerful people are behind our refineries not working. Some of them have refineries abroad; so if our refineries become functional and these local refiners are allowed to operate, they will be out of business, so they will do anything to frustrate every effort aimed at making our refineries work," said Lucky.
"That was why we voted for Buhari. I believe he has the will to break their backbone," said Bunmi. "Hmm, I dey laugh in Pidgin oo. You know what? This is not military era when he ruled with decrees; now, he has to deal with so many people, including the cabal; it is not going to be easy for him," said Juliet. "But why will the outgoing government not pay the marketers?" asked Lucky.
Replied Jude: "They have been paid. What they are asking for is the differential in naira/dollar value." "That is nonsense! If that is the case, their licences should be revoked. Who the hell do they think they are?" fumed Lucky. "The truth is that the elite will not solve our problems; we need the masses to rise up and take their destinies in their hands," counseled Juliet. "Yes, but who will bell the cat? The average Nigerian hasn't got the liver. We are just good at talking without action," said Jude.