By Clara Nwachukwu, Johnbosco Agbakwuru, Joseph Erunke, Favour Nnabugwu, Michael Eboh,Lawani Mikairu, Daniel Eteghe, Ediri Ejoh & Grace Udofia
LAGOS—The crippling strike embarked upon by oil marketers and other industry stakeholders since May 16, was called off, yesterday, as the marketers commenced full lifting of petroleum products nationwide. While the strike lasted, socio-economic activities in the country were paralysed.
By this move, the contentious outstanding subsidy claims of over N200 billion will now be inherited by the incoming administration of Gen. Muhammadu Buhari, which will form part of his briefing notes.
The development followed the intervention of the Senate, during a public hearing organised by the Joint Senate Committee on Petroleum Resources (Upstream and Downstream), held yesterday, in Abuja.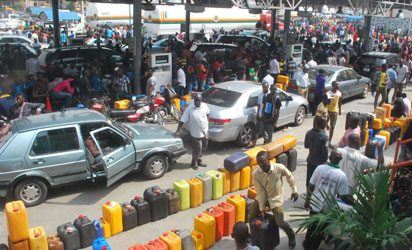 While the hearing was ongoing, Capital Oil and Gas Industries Limited, which on Sunday broke ranks with marketers and depot operators by releasing 13 million litres of fuel, also promised to release additional 19 million litres to ensure that Nigerians are completely free of the pain being experienced on account of the scarcity.
At the hearing, petroleum marketers agreed to fully mobilize their members for immediate distribution of fuel across the country within six hours, promising that any of their members who remained adamant would be sanctioned.
Legislative investigation
Recall that the Senate had last week, through a motion moved by the Deputy Senate Leader, Abdul Ningi, ordered its committees on Petroleum Resources ( Upstream and Downstream), to investigate the reasons for the lingering fuel scarcity in the country over the past one month and about two months in the Federal Capital Territory, Abuja.
The committees succeeded in making the critical stakeholders in the sector, including National Union of Petroleum and Natural Gas Workers, NUPENG; Petroleum and Natural Gas Senior Staff Association of Nigeria, PENGASSAN;and Depots & Petroleum Products Marketers Association, DAPPMA; MOMAN; and National Association of Road Transport Owners, NARTO, to call off their strikes.
Other parties in the meeting were the Nigeria National Petroleum Corporation, NNPC, and Pipeline & Products Marketing Company,PPMC; the Department of Petroleum Resources, DPR, and the Independent Petroleum Marketers Association of Nigeria, IPMAN.
The oil workers' unions had earlier on Sunday night, called off their strike following the intervention of the Group Managing Director,Nigerian National Petroleum Corporation, NNPC, Dr. Joseph Dawha, over a dispute on the operatorship of two oil blocks.
Thereafter, all the parties at a closed door meeting with the Finance Minister and Coordinating Minister of the Economy, Dr Ngozi Okonjo-Iweala assured Nigerians that within the next 24 to 48 hours, the issue of fuel scarcity would be a thing of the past.
The Chairman, Senate Committee on Petroleum Resources (Downstream), Senator Magnus Abe, who read a communiqué signed by all the stakeholders after the session, explained that the parties had unanimously agreed to the peace pact in the interest of the nation.
Abe said: "We have agreed on the following: First is that the Minister of Finance will give an undertaking to the Major Marketers and Depot Managers that the work of the committee being headed by CBN and PPPRA, on the outstanding claims would be concluded and be reflected in the hand over notes to the incoming administration."
He continued: "The Minister of Finance will give an undertaking to the major marketers and Petroleum Products Pricing Regulatory Agency, PPPRA, that the work of that committee being headed by the CBN would be concluded in verifying the outstanding claims.
"If it is concluded before the end of the life of this administration it will be reflected in the handover note. If it is not concluded before the end of the life of this administration, then the fact that such a committee is set up and working will be reflected in the handover note and a copy of the letter conveying the existence of this committee will be sent to MOMAN and DAPPMA and also to this committee.
"So, on the basis of that agreement MOMAN will offer whatever cooperation that is needed to enable lifting of products nationwide to begin within the next six hours.
"MOMAN has also agreed to give a similar undertaking to NARTO to pay existing transport cost as have been determined by them. Not all existing but the portion that had been agreed by them to be paid.
"MOMAN will give that written undertaking to NARTO and a copy will also be sent to this Committee. So, NARTO and its members and affiliates nationwide will commence lifting of products from all available depots within the next six hours.
"DAPPMA is to instruct all their depots that have products to open those depots for lifting. Lifting must commence within the next six hours.
Sanction for defaulters
"We have also agreed with the Department of Petroleum Resources (DPR) that any depot that has product and failed to begin lifting within the next six hours should have their licence revoked immediately in the national interest.
"We have also agreed that NNPC is to direct all relevant staff at all depots to work 24 hours including Saturdays and Sundays for the next two weeks until normalcy returns to the sector.
"We have also agreed to reach out to the Lagos State Government to facilitate this agreement and reach some kind of arrangement with the tanker drivers that will allow access to the relevant depots to enable the lifting of products to commence."
Action meant to ease pains— Capital Oil
Meanwhile, the management of Capital Oil has defended its action in breaking ranks with other marketers, saying that it was in the interest of Nigerians to ease their pains and sufferings.
Speaking with journalists at one of its filling stations at Berger, in Lagos, a spokesman for the company, Mr. Afam Eluno, said: "The idea of this patriotic move is to make the other operators – marketers and depot owners to come off their high horse and realise that Nigerians are suffering and join Capital Oil to sell fuel. Once they start, Nigerians won't continue to go through all these pains and sufferings."
He insisted that the issue is not about selling out on the others, but,"a question of being on the side of the people, the suffering masses, and Nigerians. You cannot put Nigerians into a very difficult situation just to prove a point. You can prove the point and still make things easy for Nigerians. So Capital Oil is not afraid as long as Nigerians are happy."
He further argued that patriotism supersedes every other interest whether political or personal, adding that it would have been unthinkable to prolong the sufferings of the people, and grind the economy to a halt, while also welcoming a new administration into an environment of scarcity.
He continued: "If Capital Oil had not embarked on this, I don't know what the plan is; whether it is to truncate the inauguration of the new President. We are expecting about 50 heads of state to attend the ceremony, you can imagine what their opinions will be when they come into Nigeria and there is fuel scarcity, you can then imagine their impressions about Nigeria and Nigerians. This is some of the things Capital Oil considered and decided to bell the cat."
He concluded by saying that the fact that other stakeholders involved in the dispute have had a change of heart, showed that Capital Oil had made the right decision to open up its depots and filling stations, even at very high cost and attendant risks.
According to him,"we've had to use a lot of security men – army, police, civil defence corps, and even private security outfit, but the crowd is almost uncontrollable. Can you imagine what some of them have gone through; one said he bought 10 litres for N10,000, which means N1,000 per litre, and he now sees where he can buy at N87/litre, so you can imaging his determination.
"It's been a very difficult experience but this is what Nigerians are being forced to go through, and this is what Capital Oil came out to solve, as the whole of Lagos is here, if not all Nigerians, trying to buy fuel at the same time. We've been begging them to have patience that Capital Oil has enough to take care of their needs, but you know how Nigerians are, they've been struggling and the crowd surge is almost unbelievable."
Sack inept officials – NLC
Toeing Capital Oil's patriotic steps, the Nigeria Labour Congress, NLC, yesterday, also called on President Goodluck Jonathan to, without delay, sack members of his cabinet that had neglected their responsibilities which led to the mess in the oil and gas industry.
The President was equally urged to fish out the oil cabals responsible for the over four week fuel scarcity that brought untold hardship to Nigerians, and ensure that such oil marketers are blacklisted to serve as deterrent to other mindless Nigerians.
The NLC in a statement signed by its factional president, Comrade Ayuba Wabba, further appealed to the outgoing President to ensure that the reports on the oil and gas sector especially, the recent probe panel on the alleged $49.8 billion unremitted fund by the NNPC was implemented.
The union said it had watched with utter disgust and dismay how business and commercial activities in the country had been brought to a halt as a result of the activities of a "a mindless and cruel cabal that had taken absolute grip of the petroleum import business."
The statement read in part: "Clearly, the objective of the cabal in the current impasse is to arm-twist the Federal Government to part with billions of dollars, which it had not earned, in the name of fuel subsidy payments.
"More curious, however, is the fact that the Federal Government has allowed this cabal to continue to hold the entire country to ransom thereby escalating the regime of impunity and unimaginable corruption which had taken complete hold of the operations of our petroleum sector causing the country to lose billions of dollars over the years."
"As Mr. President has had cause to remind Nigerians in the weeks following the March 28, 2015 Presidential election, that he was still in charge of running the country, the NLC hereby call on him to take firm and decisive action by calling to order all those in the petroleum sector that have one way or the other brought this crisis upon the nation.
"The implicit message in such a definitive action will show that no one – business men and women and their collaborators, in and out of government – is strong enough to hold the entire people of Nigeria and its government to ransom.
"We therefore urge Mr. President to, in the few days remaining of his tenure, pinpoint the officers in his government who have failed so spectacularly in performing their duties which has led to the current mess."
Airlines reschedule flight operations
Meanwhile, many of the domestic airlines, including Dana and Aero Contractors, cancelled all their flights because of the scarcity of aviation fuel particularly from Abuja to Lagos, leaving passengers stranded in various locations.
Dana Air in a statement to its customers apologised for the changes in its flight operations.
It said: "Due to the current scarcity of Jet-A1 fuel being experienced in the country, we regret to inform you that all our flights will not operate regularly as scheduled.
"We regret any inconvenience the changes will cause. All efforts are being made to ameliorate the situation and revert to our regular flight schedule."
Similarly, Aero also pleaded with its customers to bear with them at this time. "Due to the current fuel scarcity in the country which is also affecting Jet fuel, we regret to inform you that there may be changes to our flight scheduled operations."
Also, a text message from Arik Air reads in parts: "Dear guest, due to prevailing fuel scarcity in Nigeria which is made worse by the renewed strike of petroleum tanker owners, your Arik Air flight W3616 Lagos to Uyo on May 25 will not operate."
In particular, hundreds of passengers were, yesterday, stranded at the Murtala Muhammed Airport, Lagos, as most of their flights were cancelled while others were delayed indiscriminately.
Vanguard was at the various terminals of the airports and observed that only few fights were operating to scheduled destinations like Abuja, Port-Harcourt, and Calabar.
At the various airport terminals like the General Aviation Terminal (GAT), Murtala Muhammed Domestic Terminal 2 (MMA2), it was observed that due to the cancellations and delays, many of the passengers sat down on the floor at the terminal hoping that the situation would get better so that they can fly to their various destinations.
A passenger, who refused to mention his name said: "The way I am seeing this country, I don't know where we are heading to. I have been here since Saturday, I bought Medview airline Lagos to Enugu 12:30 flight ticket. I was delayed till 6p.m before we were being refunded. On Sunday, I bought Air Peace ticket, the same thing happen, this morning, am here to fly Arik so there is still hope but am just tired for this country".
"As it is now there is no way I can take the risk and go by road but there is no possibility of travelling today again. My advice for the incoming government is to do what is right to alleviate the sufferings of the masses."
Another passenger noted: "As you can see, it is a terrible situation. My flight ought to be for 9:30a.m but this is 11a.m and we have not received any official statement. No light from what we are told. I have been here since 7a.m and no news whether the flight will be delay or cancel."
"No communication to passengers whatsoever, as you can see, there is no light here, so the public address system is completely off. And you can't even see any official to talk to."
"We are still waiting to see if there is hope for the flight to take us to our destination but the flight is beyond schedule. My meeting is for this evening, ordinary I should have been in Port-Harcourt, I should have been in my Hotel preparing for my paper presentation for the evening."
Black marketers source product from Cotonou
The lingering scarcity of petroleum products in the country has forced Nigerians to source the product from Cotonou.
The News Agency of Nigeria, NAN, reports that Nigeria, which is the world's sixth largest oil producer has been in fuel crisis for more than two months.
On Monday, petrol sold for between N4,500 and N5,000 per litre along the Lagos-Badagry Expressway, as black marketers claimed they sourced the product from neighbouring Cotonou in the Republic of Benin, which is not an oil producing country.
NAN also reports that hundreds of passengers were stranded at bus stops while vehicle owners groaned under the high price of the products occasioned by the strike by petroleum marketers.
A petrol hawker, who identified himself as Simpson Samuel, told NAN that he bought five litres from Cotonou and resold it for N5, 000 in Lagos.
"I purchased this fuel for 800 Cedis a litre, which is equivalent of N3,500.We have been at filling stations along this Badagry road, but we did not get fuel. Some of our colleagues directed us to Cotonou and that is where we bought these ones.
"Many people who have also gone there cannot buy because of the rush by our people," Samuel said.
NAN reports that in other parts of Lagos, some black marketers sold between N5, 000 and N6, 000.At a filling station located at the Agric bus top, along the Badagry Expressway, fuel was sold for N300 per litre.
Mr Francis Johnson, General Secretary, Petroleum and Natural Gas Senior Staff Association (PENGASSAN), advised the incoming government to declare a state of emergency in the oil and gas industry.
Johnson attributed the leakages in the nation's revenue to the importation of refined petroleum products.
He added that the situation was creating jobs for the nations Nigeria was importing the refined product from and causing unemployment for Nigerians.
According to him, the continued importation of refined petroleum products was putting the Naira under pressure and creating social problems for the economy.
He said that there was the need for stakeholders to meet and fashion out a strategy to be adopted in stopping the importation of petroleum products.
Banks, small businesses count losses
As Nigerians await the commencement of petroleum products lifting as promised by oil marketers, individuals and businesses continue to lament the negative impact of the biting fuel scarcity across the country.
Guaranty Trust Bank (GTBank) Plc had informed customers of its decision to close earlier than 5pm, some other banks and financial institutions were also forced to close by about midday due to the scarcity of diesel to power their generators.
Specifically, in Area 7 and 8 in Garki, Abuja, security officials in First City Monument Bank Plc (FCMB) and Mainstreet Bank told Vanguard that the banks had closed since 1pm, while one of the Customer Relations Officer at Sterling Bank said the banks closed by 2pm.
FCMB, Zenith Bank and Aso Savings & Loans Plc, also sent text messages to their customers, blaming their decision to close by 1pm on the shortage of petroleum products. They, however, assured that all their alternate channels would remain open.