By Tony Ubani
The planned return of former Super Eagles captain SylvanusOkpala to join Stephen Keshi in his redemption job has been put on hold by the Nigeria Football Federation, NFF.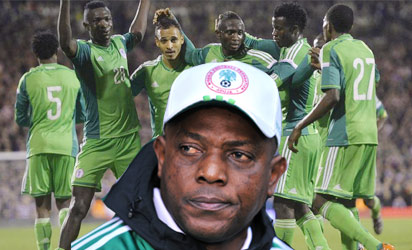 As part of efforts at ensuring that the Eagles soar higher in Keshi's second coming, he(Keshi) had requested for the services of the 1980 African Cup of Nations winner whose contribution to the success of the Eagles in South Africa in 2013 cannot be wished away.
Sports Vanguard can reveal authoritatively that the former Rangers International of Enugu star would not join up with the rest of the technical crew made up of Ike Shorunmu and Salisu Yusuf until the NFF settles the huge debts owed him as awarded by Court of Arbitration for Sports.(CAS).
A dependable source at the Glass House said that it was ethically wrong to hire Okpalla immediately when ''we are still settling his huge debts''.
The 1980 Nations Cup gold medallist took the federation to the Court of Arbitration for Sport, CAS, in Lausanne, Switzerland to seek redress and possible reinstatement or compensation with former NFF President, Aminu Maigari, and Musa Amadu, secretary general for wrongful termination of his job and non payment of his salaries and bonuses. He won the case and the NFF were instructed to pay his salaries and benefits starting from 2013 to the end of the World Cup when his contract would have ended.
''We're moving in the same direction and want the best for the Super Eagles and Nigerians. Okpalla will still join Keshi and others in the team but we want to finish paying his huge debts so that he will start on a clean slate'', our source said.