Manny Pacquiao made a humorous commercial over the "He's Going to Fight  Me?" theme, though landing real jabs on Floyd Mayweather may prove more difficult than verbal ones. Here are five keys for Pacquiao to make sure the fight doesn't turn into a careful-what-you-wish-for moment: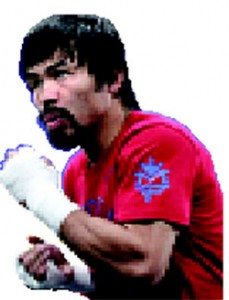 1 Work 36 minutes: The longer Pacquiao can maintain an aggressive stance offensively and not be turned into Mayweather's yo-yo, the better his chances of winning the fight, both by decision and knockout. The longer he is on the lead and forces Mayweather to react, the better his chances of putting rounds in the bag and perhaps landing something big.
Pacquiao has turned more boxer-puncher in recent years, and he definitely has to fight smart or Mayweather will walk him into something, but he wants to press the pace in a fight with high-volume punching and make the pound-for-pound king work.
He'll have to eat some counters to do it, but for Pacquiao to win the fight, there must be a take-some-to-give-some element at play. Pacquiao's worst-case scenario is standing mid-ring in a tactical match-up against Mayweather. That's a losing proposition.
2 Changing planes: Three of Pacquiao's strengths are feints, angles and head movement. He has to use them all, and he has to change them up. Mayweather will get him timed eventually. But if Pacquiao makes adjustments himself against the adjustment king, he can change his own angles and feints as Mayweather starts to recognize them. The longer Pacquiao keeps the favored fighter guessing, and reacting to his impetus, the better chance he has.
And the best way to do that is by changing the stimuli. A 98-mph fastball thrown to the same spot becomes easy to hit. So does tackling a great running back who always hits the same gap. Some of what Pacquiao does well to set up his offense involves deception. Keeping that trickiness working for 12 rounds requires tweaking the attack regularly against the smartest fighter in boxing. Pacquiao can't win a chess match but he doesn't want to be Mayweather's strategic pawn, either. This fight will be won between the ears, no matter who wins it.
3 Force a firefight: Just as there will be times when the fight is at mid-ring, where Mayweather excels, there also will be times when both men decide to stand down and let fly. The more moments like that, the better Pacquiao figures to like it. He wants to initiate exchanges at times when Mayweather wants to rest, and the longer he can keep those exchanges continuing, the better chance he has of landing something clean on the tail end.
Mayweather doesn't want a fight in which he and Pacquiao are exchanging three-punch and four-punch combinations. That's when his technical superiority becomes easier to nullify and he becomes more vulnerable to being caught out of position himself. That's exactly what Pacquiao wants.
4 Left-leaning politician: The Fighting Congressman from Sarangani Province has to lead left, even if he doesn't lean that way. And he has to score points with the voters. It's not really that difficult is it? The same things that apply to a conventional fighter reversing a few traditional weapons against southpaws also applies to southpaws in reverse; the only difference is that left-handers see a lot more conventional opponents than vice versa.
Pacquiao won't find his right jab particularly effective against Mayweather — and if he does, the pound-for-pound king has gotten old before our eyes and this thing could get lopsided en route to 47-1. But the left lead is a weapon he has to land. And the more fire he brings behind it, the better for him.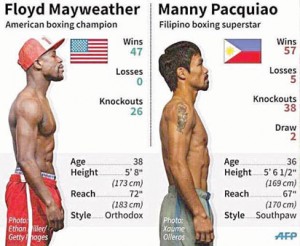 5 Balance and control: This may be the most difficult challenge of all. Pacquiao's own tendency to lunge out of position as a natural by-product of his own aggression surely was a constant focus in training camp, but there's only so much you can do. Pacquiao has brilliant footwork in many ways, maybe even better than Mayweather. But Mayweather has vastly superior balance and control.
He is almost always on point, always ready to strike, at the first sign of positional vulnerability by his opponent. Pacquiao gets out of position — a lot. His power, and the threat of it, allows him to get away with it in most cases. If he lunges much against Mayweather, he'll eventually have to pick himself up off the canvas, with the only variable being whether the referee counts 10 over him first.