Floyd "Money" Mayweather Jr. has been among the most prominent faces of boxing for the last decade. His entire life essentially has consisted of the sport: Floyd Mayweather Sr. (his father) went toe-to-toe with Sugar Ray Leonard and Roger Mayweather (his uncle) is a former world champion. The 38-year-old 11-time world champion spends a majority of the fight dancing behind his left shoulder, which protects his chin; he's the matador of boxing, the one who seemingly cannot be hit — his defensive prowess has been instrumental in leaving his unblemished record intact.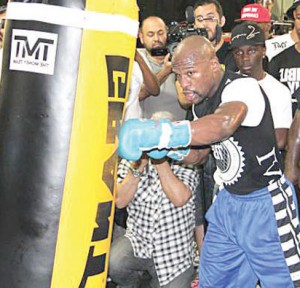 Mayweather owns the quickest counterpunch in the sport and can duck, dance and instantaneously weave out of corners. This not only flusters power-punchers like Saul Alvarez, Shane Mosley, Miguel Cotto and Oscar De La Hoya — who rely on the ropes to leverage their proficiency against back-to-the-ropes protection, a skill lost on many fighters — but also removes from the equation an area of the ring where they, the knockout-seekers, excel.
Mayweather hasn't lost since his semifinal bout against Serafim Todorov at the 1996 Olympics in Atlanta, has had 40 wins come by way of knockout or unanimous decision and has officially been knocked down once since he turned professional. However, opponents have gone all 12 rounds with Mayweather in every fight over the last six years, save for his divisive fourth-round knockout of Victor Ortiz in 2011.
In Marcos Maidana's first fight with Mayweather, in May 2014, the Argentine landed 221 punches — the most Mayweather had ever been hit in a professional fight. Although Mayweather won by majority decision, boxing pundits thought they found a blueprint for defeating him. Maidana threw a mind-boggling 858 punches in that fight; for context, that total is 102 punches more than Mayweather threw combined in both fights against Maidana.
It's understood that Mayweather often elects to throw fewer punches, opting for a stouter form of defensive boxing — rattling off a combination or two, winning the round and receding. He has thrown an average of 433 punches in his four fights since he beat Cotto in May 2012. Although he likely hasn't fought a fighter anywhere near the caliber of Manny Pacquiao, it's worth looking at how Mayweather has fared against southpaw fighters.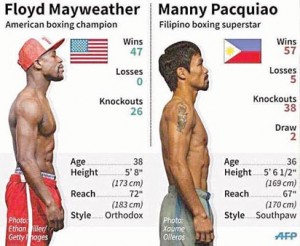 If Mayweather can control the pace and direction of the fight, there's no one alive who can beat him. He's too technically proficient and defensively minded to allow opposing fighters the chance to dictate the fight.
However, by putting him against the ropes, like Maidana did at times in their first fight, Pacquiao may have a shot at landing a high percentage of power shots and making Saturday an interesting fight. But if the ring isn't cut off, Mayweather will continue to expand the parameters by which we appreciate boxing greatness: A fighter who will take his time picking you apart until you're a heap of scraps in the ring.