By Abdullahi Garba
Kaduna—Kaduna State governor-elect, Malam Nasir El-Rufa'i has hinted that he may probe the  outgoing administration of Governor Mukhtar Ramalan Yero.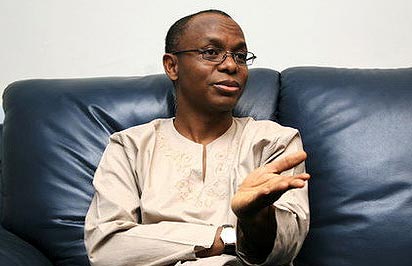 According to El-Rufa'i, "The APC-led government will ask politicians who stole government money to return such funds."
The governor-elect spoke yesterday when executive members of the National Union of Textile Garments and Tailoring Workers of Nigeria paid him a courtesy visit at his residence.
He regretted that his government will inherit a huge debt burden, adding that, "We will politely ask those who stole government money to return the funds.
"This is because the people who are in  government now are there to work for themselves but the APC government is made up of people ready to work for the masses and the betterment of the country.
"We will work with the textile union to ensure that lives of the average Nigerians get better."
El-Rufa'i decried what he described as the "shameful" state of the textile industry in the area, pledging that his government will reverse the trend.
According to him, the textile industries in Kaduna used to employ a total of about 33,000 workers and lamented that the current figure of 1,600 employees was unacceptable.
He said that the APC government would revive the textile industries more so as the move will generate employment and impact on the lives of the people.
He said that, "We have met at as a forum of northern governors-elect and we decided to ensure the revival of the textile industries.
"It is a shame that the largest economy in Africa imports textile materials from Senegal and other countries. "
Earlier in his remarks, President of the union, Comrade Oladele Hunsu, congratulated El-Rufa'i over his victory at the polls.
He described as indelible, El-Rufa'i's activities as the FCT Minister and urged the Governor-elect to take steps towards reviving the textile industry.
According to Hunsu, " The major threat to the realization of the great potential of Nigeria in textile production is high influx of counterfeit and smuggled goods.
"Over 90 per cent of Nigeria's huge market size is dominated by smuggled and counterfeit goods, killing local companies in Kano, Kaduna, Lagos, Guzau, Aba and Port Harcourt, and millions of direct and indirect associated local jobs."