By Ebele Orakpo
"Na waoh. Only in Nigeria will one see such a thing! This is very embarrassing now! Haba!" exclaimed Nina, a commuter in the Apapa/Wharf-bound commuter vehicle as a van apparently conveying prisoners to court, was being pushed by some Prison officials with two of them wielding guns. "This is ridiculous. Is it that they have no money to maintain their vehicles? What if these prisoners decide to escape, what can one prison warder with a gun do to all these prisoners?" asked Ken.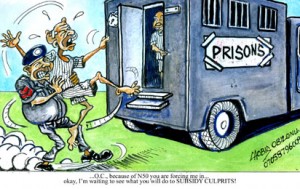 "Ah, they dare not! You think these officials are joking? They will kill any of them who tries to escape. There are two of them with guns, one in front of the vehicle and the other at the back, so the prisoners will have to behave themselves," said Ojo. "Forget all that long grammar. They can afford to do this in this axis. If they try it in a place like Mushin or Oshodi, I assure you, O.Y.O (on your own) will be their name. All these prisoners will be let loose," stated Nina.
Narrated Tim: "I have witnessed such scenario two or three times on this same route…" "Broken down prison vehicles being pushed to court with prisoners?" asked Ken. "Not exactly! But they were caught in traffic, the almighty Apapa-Oshodi Expressway traffic, around the Mile-Two end." "Thank God for the 48-hour ultimatum given to the tanker drivers by the Lagos State Government and like magic, they all disappeared from the road even before the 48 hours elapsed," said Nina.
"Bros, it was the miracle of the century! I couldn't believe what I saw," said Ojo. "Well, it's not yet uhuru oo. After all, this is not the first time such ultimatum would be handed down to the tanker drivers. Let's watch and see. If after three weeks they don't return, then we can roll out the drums in celebration. But for now, let's keep our fingers crossed," cautioned Ken.
"So the government knew what to do all along but left us to suffer for so long in the hands of these road terrorists? So sad!" commented Tim, to which Ojo replied thus: "It is better late than never. Abeg when these politicians perform, let us give them credit instead of this constant bashing. The fact is that the tankers are out of the way and we can use the road like normal human beings. At some point, everything about that road was upside down and inside out. It was total chaos. There were no laws guiding anyone there. It was like a jungle."
Continued Tim: "As I was saying, on this particular day, the danfo drivers were on full display of their usual madness. Although they were going against traffic, instead of being orderly, they took up three lanes, leaving only one lane for those who have the right of way. This danfo driver left the third lane, entered the fourth lane and effectively blocking oncoming vehicles. Unfortunately for him, he came face-to-face with a prison vehicle conveying prisoners to court. His bus chose that particular time to park up.
Trust Nigerian security agents; within seconds, all the prison officials jumped down from the vehicle and descended on the driver, beating him black and blue. His windscreens were destroyed and then he was bundled into the bus while a prison official drove the bus to God knows where. Of course the passengers disembarked as soon as the incident happened and blamed the driver for impatience."
"That was very dangerous because in that confusion, the prisoners could have all escaped. In fact, the danfo driver's action could be viewed as sabotage, to help the prisoners escape." "He'll be lucky if he gets out alive. Sometimes that is the kind of treatment they need to keep them in line," said Ken. "No, that was extreme! They could have just arrested him without beating him and destroying his bus," said Tim. "I think he got his just dessert. Next time, he won't pull such stunt," insisted Ken. "This is a case of Double wahala for dead body, according to Fela," said Nina.