By Dele Sobowale
Okonjo-Iwela directs SURE-P to terminate pact with firm." PUNCH, May 15, 2015, p 9.
In one of her last face-saving measures, Dr Ngozi Okonjo-Iweala, the Coordinationg Minister for the Economy, CME, "directed the immediate termination of the partnership between the Subsidy Reinvestment and Empowerment Programme and Forcecom Networks Limited on the Graduate Internship Scheme."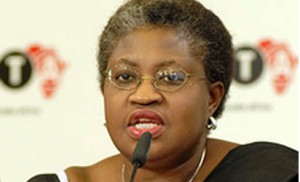 Even before reading the story to the end, something told me that it was another contract given to one of "our brothers" which now threatens to put everybody in trouble when the new government takes office in June.
And sure (pardon the pun) enough, the Managing Director of Forcecom Networks turned out to be one Paul Okafor, who allegedly "coerced the interns to sign an undertaking to pay N7,500 out of their monthly stipend for training with the Lekki Business School."
"She also alleged that the company fraudulently convinced the graduates to register in January 2015 but set their hire date as November 2, 2014."   Earlier on after asking security agencies to investigate the firm, "she also accused the firm for presenting time sheets, which showed that the interns had worked and requested payment of their monthly stipend when they did not work."
On the face of the allegations made by the outgoing Minister, what emerges is a case of the Ministry engaging a firm for serious national assignment without asking the security agencies to conduct investigation first. That paints the Minister as a most careless individual in high office.
The obvious question one should ask is: how was Forcecom selected in the first instance and handed a multibillion naira contract without conducting due diligence regarding its competence to undertake the assignment and the character of its leaders? Specifically, who recommended Forcecom for the assignment and why?
We will return to this matter later because it is a demonstration of a character trait which the outgoing Minister apparently possesses but which we have all overlooked all along. An attempt to obtain information on Forcecom Networks Limited on the internet ended in a blank website, but, which certainly had only recently been erased. Forcecom Networks Limited obviously has a lot to hide.
It would have amounted to a waste of valuable time to try and Google Paul Okafor. That makes as much sense as searching for Bello in Ilorin or John Smith in the New York telephone directory. However, Mr Paul Okafor of Forcecom and his accomplices in what appears like several crimes can run but they cannot hide. The media will find them –not to persecute them but to help them tell their own side of the story.
What the Minister, apparently in panic, had presented as a simple case of several attempts to defraud the Federal Government and the beneficiaries of the Scheme might actually be part of a grand design to rake off funds by politicians – using Forcecom as a front. It is inconceivable that Forcecom can act alone without assurances of protection from powerful individuals.
Nigerians want to know the powers behind Forcecom which guaranteed the company immunity, before the result of the Presidential Election, in March, exposed everybody, including the Minister, to prosecution. That is why Mr Okafor should not run or hide. As for the Minister now blowing the whistle, two facts about her have escaped notice for a long time. As mentioned above, something told me that one of "our brothers" must own the firm.
Dr Ngozi Okonjo-Iweala ran the Ministry of Finance as if the Federal Character principle never existed until after the elections. The Chief Executive Officers of AMCON, Debt Management Office, NEXIM, Securities and Exchange Commission (SEC) were all from the same zone of Nigeria; so is the Governor of Central Bank of Nigeria (CBN) – whose appointment she must have influenced.
No other Ministry had been so one-sided. For her, equity be damned. Incidentally, that was what happened on her first tour of duty as Finance Minister. That Forcecom, now being accused of frauds, belongs to "our brothers" and was not subject to due diligence merely recalls what Governor-elect, El-Rufai, wrote about her (Thanks to Prof Ikiriale of SUNDAT PUCH for the reminder):
"Ngozi had very good relationships with all manner of politicians… and she indeed had excellent relationships with some of the 'corrupt' legislators and governors many of them whom the rest of us would not say hello to… A few contradictions that irked us were persistent rumours that her brothers were doing deals in the Ministry of Finance and making money." (Nasir El-Rufai, in THE ACCIDENTAL PUBLIC SERVANT, page 177).
El-Rufai's book had been in circulation for more than two years and Okonjo-Iweala had ample time to refute the statement. Can silence mean anything? More recently, the Minister of Finance had exhibited conduct which called her professionalism into question. No Treasury Secretary (Minister of Finance) in the USA, where she went to two universities, would attend a campaign rally of the President he/she serves.
Ngozi not only did, she was totally oblivious of the fact that she was a public servant – meaning servant of all Nigerians, not PDP. That again is another reason Paul Okafor should not run away or hide. She who comes to equity must come with clean hands. It is doubtful if the Minister's hands are clean – even on this matter.
NEXT: NGOZI OKONJO-IWEALA'S PATHETIC SELF-ASSESSMENT.