By TABIA PRINCEWILL
WHAT an incredible time to be a Nigerian! All my life, I have been waiting for this election. I have been waiting for confirmation of my belief in the possibility of honesty, decency, integrity and steadfastness being rewarded in Nigeria.
This is just how I felt the morning after Barack Obama's win. I was a student at the Sorbonne University in Paris, France and I remember getting into the train on my way to class with an extra bounce to my step. I held my head higher, my carriage was different, it was the same for all other Black people and ethnic minorities on that train. We felt the world saw us, that one man had exemplified our struggles and that the majority's acceptance of him would in turn, translate into it embracing us and our talents.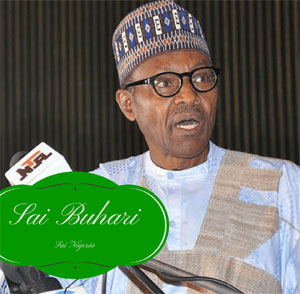 It was a great day for the marginalised, for the down trodden, for anyone with dreams that felt impossible. For me, Buhari, like Obama, told us that although us dreamers might not be part of the establishment, perhaps because of the nature of our aspirations, the magnitude of our uncompromising belief in fairness and equity, because we shared this idea that cronyism cannot develop a country, that if one has the courage of one's convictions, and is talented to boot, one should be allowed, no matter one's skin colour, age or ethnicity to share one's light with the world.
They told us that our perceived lack of funds would never be a deterrent to the actualisation of our ideas and ambitions. In Nigeria too, we will see a system where personal beliefs and talent, rather than money maketh the man. In a system where only the rich seemingly prosper and fit in, these men showed us it is possible for ordinary people to succeed. So, my philosophy will forever be, as the Americans say, "no guts no glory" or as Charles de Gaulle, another great believer in life's grandest dreams and possibilities said: "la gloire ne se donnequ'àceux qui l'onttoujoursrêvée", meaning, "glory only gives itself to those who have always dreamt of it".
From the time I was a little girl, I dreamt both of personal glory, of glory for man and country as I was raised on the ideas and philosophies of great men and women who taught me, through the pages of books which brought us together, through space and time, that anyone can matter and make a difference if they have truth on their side and most of all, if they believe. Baba, the father of all the dreamers, of all the achievers, those who have been taunted and shamed for their beliefs, those who refuse to take what is not theirs and have been mocked for it, Baba, thank you for validating us, for showing us we were not crazy for believing that Nigeria could be about something more than money.
Daughter of civil servants
I'm the daughter and granddaughter of civil servants. My grandfather, Sunday Young-Harry, was the Deputy Director General of the Federal Radio Corporation of Nigeria (FRCN, formerly Nigerian Broadcasting Corporation, NBC). I have a particular memory of him that makes my insides twist with a mixture of love, pride and sadness. He had an official residence in Ikoyi, which did not become his personal property once he retired. Many of his colleagues and contemporaries must have thought him strange.
In today's Nigeria, like a former Head of State who returns moneys allocated to him because he believes they are not his due, such behaviour is not just an oddity, it is a rarity. Rather than praise such people, today's Nigeria would dare call them fools. At the end of Abacha's regime, my grandfather, in conversation with my mother, could not believe that it was possible for anyone to make away with such huge amounts.
He could not begin to comprehend that anyone would even dare to take what wasn't theirs. I have tears in my eyes when I think of such a man, honourable to the very end, loyal to his country, even when it was no longer loyal to him, or to itself and the beliefs that made it. Like many pensioners in today's Nigeria, the state soon forgot him when he was out of office. My grandmother, also a civil servant, but with the Lagos State Ministry of Health, taught us the power of honour and integrity.
My family learnt compassion from her and the virtues of service to others. So for me, "Change" isn't just a slogan. It's a family crest, emblazoned deep within my heart. It is the promise that the Nigeria we all once knew, a country where hard work, talent, honour were rewarded, where service was a public duty rather than an area for personal profit, can exist once more.
Forgotten people of Nigeria
The forgotten people of Nigeria, who are not children of ministers, who do not own private jets (and do not hope to might I add), all of us Nigerians who believe a good name is worth its weight in gold, we're so proud of you, Baba.
I have never seen my mother lobby for public office, although she could have done so. Kehinde Young-Harry, the quintessential broadcaster, who inspired my love for the media and social commentary, has never asked anyone for anything, has never sought anything beyond her dues. She taught me to be content and to hold my head up high, no matter what life threw at me.
Baba, now that you are there, restore Nigeria's former glory, it's former values, so that I can raise children who will be like her, who will not be afraid, because some of their friends cut corners in order to own expensive cars, or homes abroad, to be themselves and to work hard and deserve all that they own.
Nigerians have grown tired of feeling like prisoners in their own country. We are tired of being chained to the ambitions of some, who quickly forget us after elections, while our own dreams and aspirations are cast aside. Three cheers for the dreamers, the achievers, the sons and daughters of their mothers who exhibit the resilience of the Nigerian spirit, who have shown the world that Nigeria can have a peaceful election and vote for the ways of goodness rather than rascality and profiteering. God bless the People's General, the General for all of us bleeding hearts who ardently desire change!
Asiwaju Bola Ahmed Tinubu
WHAT a man! The Financial Times calls him "Africa's Machiavelli", a kingmaker who risked it all to live forever in the pages of History, a man who saw the writing on the wall and decided it was time to work, not for himself, but for Nigeria and the ages.
His story, like Buhari's should be taught as a university course: if this was America, a political scientist would be writing his memoirs so that students can study, learn and understand not only how game-changers are made but how difficult choices and challenges are balanced for progress. We are going to have a great country, Nigerians. Don't believe me? Just watch. Or even better, etch your name in the pages of history: participate.
National Assembly
ABOUT 300 former House of Assembly members will not be returning in June, due to the heavy defeats PDP suffered during the elections. Although some see training new members as a chore, I see it as an opportunity for political renewal. Not only is it an opportunity for "fresh blood" to bring new vigour to House proceedings, it is an opportunity for new, better conduct to be popularised in the House, if these new members embrace the change they were voted in to implement.Some were once PDP members but I hope they realise it is not business as usual. Baba will not allow it. We, the people, will not allow it.