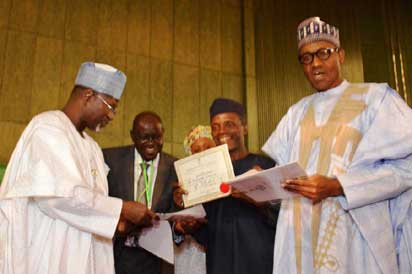 Professor Attahiru Jega, Chairman, Independent National Electoral Commissioin, INEC, presenting Certificate of Return to All Progressives Congress, APC, presidential candidate, General Muhammadu Buhari, at National Conference Centre, Abuja, while Professor Yemi Osinbajo, APC Vice Presidential Candidate, and General Buhari's wife, Aisha, look on.
By Ola  Ajayi
IBADAN—The leadership of All Progressives Congress in the South West has assured Nigerians that the party would not disappoint them.
The zonal party while congratulating the President-elect and running mate, in a statement by its Director of Media and Publicity, Mr. Ayo Afolabi, said what used to feel like a fantasy had finally become a reality because of Nigerians' commitment to forging the country of their dream through democratic means.
"It feels like Independence all over again," the statement said.
While thanking all Nigerians, electoral and security officers that worked to help democracy make further inroads into Nigeria's existence, he noted that what happened had confirmed the late sage, Chief Awolowo's statement that – change will come when Nigerian masses in the North and South, Christians, Muslims and Animist will merge as one for the progress and unity of the country.
"This is the dawn of a new Nigeria, one firmly established on democratic principles, good governance, and respect for the rule of law. Nigeria will be free from the bondage of corruption, impunity, unemployment, nepotism, and other anti-national claws holding her down.
"We thank Professor Attahiru Jega, the architect of Nigeria's modern democracy, for his nobility and courage of conviction in the face of massive threat, opposition, and sabotage.
"The S-West APC also singled out President Goodluck Jonathan, GCFR, for commendation because his magnanimity, expressed when he conceded defeat and congratulated his opponent. This singular act, which first began with our own Dr. Kayode Fayemi, has further shown that Nigeria is now matured for constitutional governance and participatory democracy."
"Finally, we congratulate and thank Asiwaju Bola Tinubu for the love he has for this country, which made him take the biggest political risk ever known in Nigeria's annals and staking all he has on it. It could have been suicidal but God chose to reward your seeds with a tree that will continue to produce fruits of democratic dividends for many generations to come." We also thank and congratulate our leaders throughout the South West including Chief Bisi Akande, Otunba Niyi Adebayo, all former and serving governors and other leaders too numerous to mention," he said.