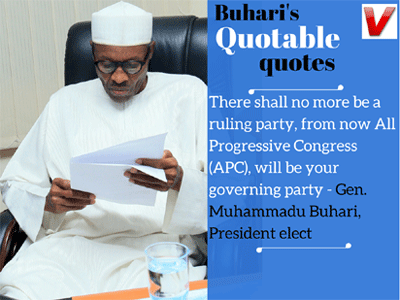 Buhari
By Olufemi Ajasa
Follow @OlufemiAjasa
1.There shall no more be a ruling party; All Progressive Congress(APC), will now be your governing party.
2. You are all my people; I will treat you all as mine. I will work for those who voted for me, voted against me and those who didn't vote at all.
3. President Jonathan has nothing to fear of me; we might not agree on the same methodology of governance… he is a great Nigerian leader, who made it possible for democracy to thrive.I will extend my hands of fellowship to Jonathan and his team.
4. Our long night is over and a new dawn has come…democracy & rule of law will be put in place.
5. Let us put the recent past behind us and forget our old battles.
6. Along the way there will be success and setbacks; mistakes will be made but we will not take you for granted.
7. You Shall be able to go to bed knowing you are safe…insurgents would soon know the strength of the collective will of Nigerians