By Funmi Ajumobi

It is true that the best hands hardly or never get the job as the case may be. Nigeria is full of talented brains that have solutions to offer to make the nation the desired place if the available human resources and economic resources that God has put in place for us are properly harnessed.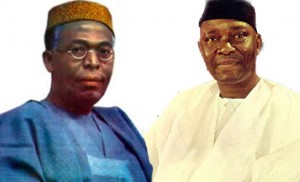 The first Lagos Gender Dialogue Debate for the governorship candidates organized by Vanguard, in collaboration with Women Advocates Research and Documentation Center(WARDC) and held at Sheraton Banquet Hall, last Wednesday, opened the eyes of participants when the governorship candidates presented their manifestoes on women, and also signed a pact, tagged '12-point agenda, to fully adhere to their promises.
There were two candidates that you could actually feel their passion not only for women but also the citizenry to live a good life but the questions that beg for answers in my mind and many that were present are:
will the best hand get the winning votes? How many voters know and understand their plights? How many of those who heard, understand and now have choices of who to vote for at the gathering are ready to leave their convenience to exercise their voter's right?
The gathering was a great platform for women to make their choices in the coming election. Another thing that struck me which every woman should sleep over and make quick decision on is what one of the two forefront candidates frankly told the women at the debate. He said, "The problem of women is not different from the elite.The elite complain a lot but they are not participating enough.
The women also complain a lot and they are not participating. Many women are in activism but they don't want to jump into the murky water of politics and the reality is that, it is there that the implementation is made possible. Women should move from the position of political activism and come in and be more forceful at the political front. That is how we can make sure to convert what we have on paper to reality. You can have everything on paper but if you are not there, there is problem''.
This should be an eye opener to women to stop playing the background but to come to the reality where implementation of what we profess is made possible. That is politics. There are different types of leaders in Nigeria. We have transactional leaders, changed leaders and transformational leaders.
A transactional leader transacts with the people he is leading. He does things based on what to benefit. He weighs his actions and does only the things that will bring personal joy to him not considering the people around him. He is filled with the spirit of me, myself and I. A changed or agent of change leadership is bent on changing things from his stereotype ways of doing things with the aim of giving equal opportunity for development while a transformational leader intends to transform.
He wants to make life better for the people around him. He is not selfish. Transformational leaders also want people around them to be happy. They hardly care about themselves; they always desire to bring out the best in the people around him.You and I happen to be leaders at different levels of life. We have too many people who transact with their positions.
Most of us in the country do not have the best interest of the nation and her people at heart. We are more conscious of our individual selfish need and aspirations. We need a new sense of doing things in Nigeria. If Nigeria will ever get better, you and I must think deep about our influence on the people around us. Are we leading because of what we will benefit? Will the people follow us if they had a choice?
We must stop the: me, myself and I attitude in us and embrace a sense of selfless service in every area we find ourselves. The decision you make on daily basis has an effect on the people around you especially our children. Think of how other people will feel before taking steps as the election approaches.
You know yourself better than anyone knows you. Are you a transactional, a changed or a transformational leader? Nigeria can be the most powerful nation on earth by 2040 if you sincerely become a transformational leader or a changed leader wherever you are today.