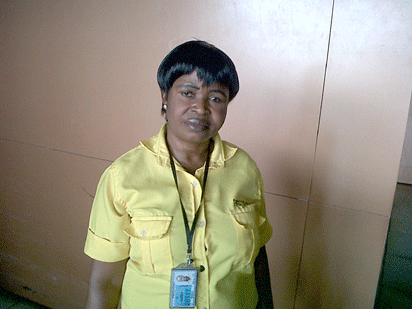 *Agwu
By Lawani Mikairo & Daniel Eteghe
It started with galore of scoldings for Miss Josephine Agwu, a mere airport cleaner who found forgotten $28,000 and other foreign currencies totaling about N12m and refunded it to the owner. Some called her dumb-ass, others referred to her as silly, especially as the owner of the money showed how not to appreciate goodness.
She became a subject of mockery, both for people present at the airport who heard of it, and notably on some social media platforms. But Miss Agwu held herself with satisfaction that she did the right thing. Now, her saintly gesture is being appreciated.
Recognition and appreciation
The Lagos State House of Assembly, last Monday, concluded plans to invite and honour her. And her employers have increased her salary from a paltry N7,800 to N15,000 per month. And in her words, "FAAN (Federal Airports Authority of Nigeria) said that they are going to give me automatic employment, but I have not heard from them till now."
And she added: "On the part of my management, they are happy, all my supervisors. In short, they are doing good things for me. Now, they carry me like egg, even my MD."
Miss Agwu, a cleaner with Patovilki, a concessionaire handling the cleaning of   the Murtala Mohammed International Airport, Ikeja Lagos, found   the N12m while  cleaning a toilet near the screening point of the departure area of the airport,  and took it to the security post.
The owner later came and the security returned the money to the owner and disclosed how Miss Agwu found the money and brought it to them. After counting the money and it was complete the owner simply looked at Agwu and walked away. This was the third time she was returning lost bags containing huge sums of money.
For a cleaner who earns N7,800 monthly for a 12-hour day job, her act of integrity shocked many. The Lagos State House of Assembly which just returned from recess has requested the Clerk of the House, Mr Segun Abiru, to invite Miss Agwu to the House. Deputy Whip of the House, Honourable Abiru Rotimi Abiru, had under Matter of Urgent Public Importance, raised the issue which  happened on January 23, 2015, calling the attention of his colleagues to the fact that Miss Agwu was returning lost money for the third time.
Company policy
The management of Patovilki, Miss Ugwu's employers, played a major role in influencing her action. The company has an in-house policy to guide every of their employee working at the airport. In an interview with Saturday Vanguard, Mrs. Eunice Anumudu, Manager, Airport Zone, said: "Since the incident, people have been reacting to it and they have been praising her for what she has done, and that she did well and several people have been calling her."
According to Mrs. Anumudu, "My own impression as a manager is that she did well because that is what we told them at the initial time that she was searching for the job. We told her that as you are looking for this job, the salary is too small. Can you do the work? She said 'yes', so we told her that anywhere we put you, you have to behave well because this is an airport. We have many ogas here, you don't know who is who. If they ask you question that you cannot answer, you look for the supervisor or the manager to answer the question."
Mrs. Anumudu continued: "Wherever we post you and anything that you see there, don't take it home. Take it to the security because that thing does not belong to us. It is the passenger that has it. You know, some of the passengers, when they travel, some of them will leave their bags and sometimes phones in the toilet.
"So, we told them to behave well, respect everybody. Since this incident happened, she has not been promoted to a supervisor or other higher position, but we contacted our Managing Director and what she did was to increase her salary. The MD was happy about what Miss Josphine Ugwu. She has agreed to increase her salary from N7,800 to N15,000."
Certainly, not every of the employee so briefed would have returned the money, which also portrays Miss Ugwu as an exceptional person.
Sense of fulfillment
Speaking also with Saturday Vanguard, the beautiful lady, Josephine Ugwu, who has been catapulted to limelight, relived the experience that day: "I am from Enugu State, from Obonkpa in Nsukka Local Government. I live at Agbotukunyo in Agege. The incident happened on the 23rd of January 2015. I was on morning duty. So as I was sweeping around 6:30pm, I saw the bag on the ground and there were some passengers there so I thought that the bag could belong to one of them. But as I closed at 7:20pm, the person to relieve me on duty came that time."
"I was going to the toilet again, I saw the same bag there. Then I told the passengers sitting there that they should be mindful of the bag because once they announce the flight they may forget it. They replied   that the bag did not belong to them. Three of the passengers left, so I then picked the bag and took it to the FAAN security people. At first, they put the bag on the screening machine, before they opened the bag and discovered that there were many envelops in the bag containing money in different currencies including dollars."
"As they were counting it, I saw an NDLEA woman accompanied by one man and both of them were coming towards us. They said that the man could be the owner of the bag. So when they came in, they interviewed the man and the man mentioned the amount of money and the colour of the bag. Before then, they had counted the money and it was exactly the amount that the man said."
"Then they carried the money and gave to the man for him to count. After counting, they asked him if the money was complete, he said yes and they snapped him picture. They asked him again about three times and they told the man that, 'look at the woman that picked your bag', and the man was looking at me. His name is Mr. Obinna Samuel. They told him that he should thank his God that if it were another person, that person would have run away with the bag but this woman didn't do that. So I left and the man took the money and put inside the bag and went away."
"Then FAAN security personnel called me back, and they took my number On-Duty-Card (ODC) and my name. That was how it happened. People are praising me, FAAN said that they are going to give me automatic employment but I have not heard from them till now."
Miss Ugwu is aware of how she is being viewed by some Nigerians. She was reported to have advised: "People should appreci­ ate what they have. People do a lot of bad things because they are not happy with what they have. With the little I earn, I try to manage it well. If I can't manage that small money that I earn, even if I begin to earn N1 million, I will still not know how to manage it.
"So, I am telling every Nige­ rian to be happy in any situation they find themselves. Don't be faster than your shadow because so many things will go wrong. Sometimes things get bad because people want to be like others. All fin­ gers are not equal. It is true that God promised those who serve him riches, but people should be careful how they go about it. I am telling people to have pa­ tience. It is because people want quick money that is why some people become thieves.
She concludes: "On the part of my management, in fact they are happy, all my supervisors. In short they are doing good things for me, even they are carrying me like egg, even my MD. They have added money to my salary. In short, my manager, Madam Eunice has been doing many things for me since the incident, praising me. She said that she knows that she can trust me, and that I cannot see anything that does not belong to me and I take it away."