By Funmi Ajumobi
Parents are witnesses to unending list of books from kindergarten to primary schools in Nigeria especially in private schools. Despite this, 50% of these books are not opened till these children are promoted to the next class. One begins to wonder if schools now work for publishers or there is not enough time to finish the scheme of work for schools.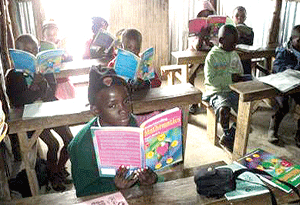 The purpose of buying books is to be read and understood before going to the next class but in most Nigeria schools, it is now to be kept in the classroom mainly for students to use in school. No wonder the crusade to improve reading habit has been so slow.
In many private schools and some public school trying to be 21st Century compliant, teachers that are suppose to teach and guide these little ones on reading habits now refer them to internet for spell check and assignments instead of making use of their textbooks and dictionary. Though computers have become a more important factor in today's society, the upcoming of ICT technologies has its implications on school and education.
It is not possible to ignore computers anymore. Subjects can be taught with computers which make education to be more efficient, it can provide better learning results and it can be made adaptive to the individual learner. Despite all the benefits in teaching students, it is not yet ripe for Nigeria children because many of their parents do not have computers at home. What this simply means is that these children are being exposed early in life to dangers associated with internet usage.
Nigeria primary students need to read and do their assignment from their textbooks more to teach them how to make use of their books and how to check dictionary in order to improve their reading habits It is a known fact that the world has become a community because of internet and it can do all things but it is not meant to teach all things, if not there will be no need for books and there will be no need to employ teachers