By Muyiwa Adetiba
Today would have been the D-day. The day Nigerians would have gone to the polls to choose a new leader or endorse the old one. The conduct of the elections would have been as important as the outcome. It was another opportunity to show the world that we are serious about governance and due process. But it was not to be because the date was shifted seemingly out of the blues by the umpire. The reasons given are the security lapses which have been with us for at least six years. The new date to solve the security problems and have a credible election is six weeks away, on March 28.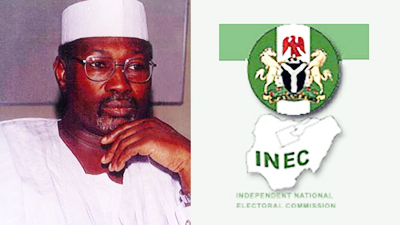 The announcement by the INEC Chairman, Professor Jega was an anti-climax for me. It was, in fact, a waste of my time in many ways. I virtually spent the whole day waiting for the announcement while hoping that INEC would assert itself. My hope rose by the minutes and the hours. It meant, I reasoned, that somebody was holding out at least. And when an Aunt called me in the afternoon to complain about the six week extension, I urged her to be patient and wait for Jega's announcement. I hope she didn't wait because when it finally came close to midnight, it changed nothing; instead it confirmed many things.
The rumour that the PDP government was planning to scuttle the election had been in the air for quite a while. It was to start with an extension and end with an interim National Government to be headed by a military personnel. I have seen enough in my time not to believe every rumour but I have also been around enough to realise that many profound changes in our body politic had started with some rising smoke. And there is hardly any smoke without fire. So when the Military and the PDP denied the latter but kept mute on the former, I was worried.
As an information manager with a good knowledge of how propaganda works, I know what selective denial could mean. My first real confirmation came inadvertently. I had called the Chief Executive of a major newspaper in the morning of the Council of State meeting for something personal. When he told me he was in Abuja, I teased him that he had now become a member of the Council of State. He laughed and told me matter of fact that they were wasting their time; that the election would be postponed.
By Friday, in spite of the Council of State's decision not to postpone, the social media was full of the postponement rumour. It turned out that the social media was right to the minutest detail.What it means is that a script had been written all along and every major actor including our 'independent' INEC Chairman, was obliged to act their part. It also means that the script writers are ruthless players who do not give a damn about the implications on the national psyche. How ruthless they are, how determined they are to follow the script to its conclusion irrespective of the consequences, will be determined by time. For now, let us briefly examine the social and other costs of the postponement which some people, not without justification, have described as an annulment or a coup.
I have an aburo who was born on February 14, and who always uses the opportunity of the Valentine public holiday to have an open house. He turned 60 this year, but INEC decided to deny him this year of all years, his annual ritual. I called him after the postponement to ask if he would now hold his traditional open house and he told me it was too late. And so it is for many people who had had to work around the date—weddings, funerals and birthdays cannot easily be rescheduled.
The businesses around valentine are
almost as big as the ones around Easter. Many people rely on these seasons to make sales and shore up their finances. Have you noticed that the valentine noises were particularly low this year? Now that the date has been changed, it is already too late for many to start making up for lost ground. The result is that many small businesses will be affected by this political season that has refused to go away. But then do we really give a damn about how the average Nigerian makes his living?I know people who made plans to be out of Nigeria during this period for reasons best known to them.
I know people who are due back but have decided to stay put until after the elections for reasons best known to them. I also know people who have made plans to be back home especially for the elections, again for reasons best known to them. These people, including their families and associates are going to be completely disoriented by this sleight of hand decision. The cost to them in terms of money, time and lost opportunities cannot be easily quantified. Many people put major activities and decisions on hold until after the elections—like a person going to see the dentist—because of uncertainties.   Did our government think of the collateral damages to these people or they simply don't give a damn? And are Nigerians wrong to believe that a date freely given for something as important as a National election would not be changed on the flimsiest of excuses? Whatever reputation or prestige that Nigeria has in the international community would have received a serious dent by this seemingly sudden postponement. Nigeria is a big country; it is also a very strategic country in black Africa. We should stop treating it like a banana republic.
There are many things to say about the postponement, but this is not the time because, unlike some people, I give a damn about the unity of Nigeria. For now, I will just say that I am embarrassed by the activities of the military on the battle ground and off it. I am embarrassed by the actions of those pushing them into the political arena without thinking of the consequences. I am embarrassed by the ineptitude in and around government. I am embarrassed by an incumbent that is playing the religious card so blatantly given the tension in the country. Let us for a change, give a damn about Nigeria. Let us avert tension and bloodshed. Let the institutions including INEC and the military do their jobs without fear or favour. We owe it to the young, innocent souls in the country.