IF we are to judge the future of Nigeria by the promises that appear on election posters, Nigeria is about to become one of the most developed countries in the world. Candidates and their parties have managed to capture issues affecting Nigerians and listed them for solution, once they get our votes. Are we not used to politicians and their pranks? What is different from what they promised in 1999 and 16 years after?
Have they not just given the challenges new dimensions to get our attentions? How have those who are making the promises improved our lives since 1999? We should ask more questions, particularly how they intend to execute the lofty promises we always hear during campaigns since the economy can hardly support them.
The major difference this time is that there are more promises, which issue from the degeneration Nigeria has undergone in 16 years. The decay is deeper. We would notice it if we also pay attention to the misgovernance in the States. Like the central government, which has challenges explaining its stewardship, the States and their local governments have run on minimal accountability to the law or the people. Past promises of accountability were never fulfiled.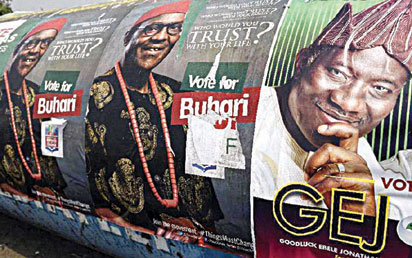 Justice, equity, reflected in the rights to life, security, and access to education, employment, health services, housing, electricity, rails, roads and other means of transportation are basic issues common to Nigerians. Portable water is unavail-able. It is no surprise that there is inade-quate water for industrial, commercial and agricultural uses.
During fire outbreaks, we evince wonderment that fire trucks arrive without water. Failure to attend to these matters in sustainable manners leaves the country under-developed. How would winners of the elections address them? Millions of Nigerians are living through grinding poverty from childhood to adulthood. The political class in its hurry to succeed itself skirts gloomy statistics that paint pictures of Nigeria's poverty in bold, frightening hues. They speak about leadership, changes in the structure of governance, constitu-tional amendments, and most importantly, allocation of resources. Rights of the individual to life and the prosperity that our country holds are merely thrown in to complete the works, since modern constitutions parade human rights credentials.
Those seeking our votes have played major roles in our blighted past. We should question them more intensively. Where do they stand on citizenship rights, security of lives and property, regional autonomy, immunity for elected officials, state and regional police? What is the fate of our children whose circumstances our laws consistently impoverish? Nigeria is in dire need of practical ideas for its future. Expectations are that the 2015 elections would elect leaders who think about Nigeria beyond themselves.