By Evelyn Usman
Lagos—The Lagos State Police Command weekend, disclosed that it had created a Tactical Operational Unit,TOU, that would support the Rapid Response Squad in the fight against criminality in the state.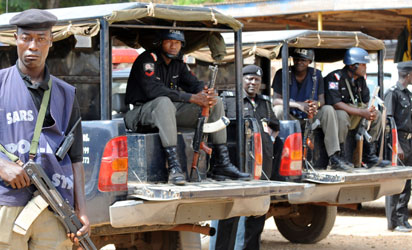 Making the disclosure during the donation of four patrol vans by Heritage bank and Etisalat Telecommunication company, the command boss, Kayode Aderanti, said that part of the aims of the unit would be to carry out surveillance on vulnerable areas within the command.
Appreciating the private companies for the gesture which he said was a step in the right direction towards ensuring a peaceful environment for business to thrive in the state, Aderanti called on other corporate bodies within the state to borrow a leaf from the donors.
" We have a tactical operation unit that was created in order to lay out security to support RRS. We will deploy these vehicles to vulnerable points so that when people are leaving and returning from their offices, there will be Police presence, to ensure that miscreants who usually harras them , don't have a space. We intend to close the space that is remaining , by way of ensuring critical visibility," he said.
In her remark, the Executive Director, Heritage Bank, Gloria Okpoboma, stated that the donation of two Hilux vans, walkie talkies, ballistic vests and helmets, was part of the bank's support to complement what she described as the good work the command was doing.
"You know Lagos is prime in the affairs of this country and its important that everybody can feel safe. And we also know that these resources are required to enable the police force do the work that they need to do. They need these resources to enable them perform their duty efficiently".
On his part, the Manager in charge of Central operation and intelligence, Etisalat, Mr Sunny Eleghe , said the donation of two Hilux vans was part of the telecommunication's corporate responsibility to the command and also to support it in the fight towards ensuring a peaceful environment that would promote business.