By Gabriel Omoh
In this column last Monday, I said that diesel mafias are milking ordinary Nigerians dry by making undue profit through importation. I said that prices of crude has long crashed yet these men in unwholesome diesel trade have refused to let Nigerians get the benefit of falling oil prices by reducing the pump price of diesel.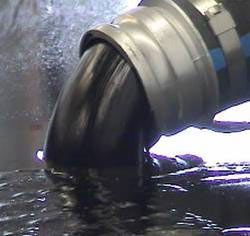 A check with the Petroleum Products Pricing Regulatory Agency, PPPRA and some independent marketers confirmed that the landing cost of diesel is about N100 per litre. If the product lands in the Nigeria shore at N100 per litre, marketers are selling in filling stations at N160 per litre.
This implies a difference of N60 per litre. Giving allowance for handling cost at N10 per litre, these men are making an average of N50 per litre on diesel. Nigeria is said to be consuming about 11 million litres of diesel per day.
Simple financial accounting indicates that these Nigerians are pocketing close to N550million per day. In one week, they would have made N3.85 billion. If the trend is continues for a year or so, they would have made N198 billion from the sale of diesel.
The question is what other business in Nigeria will be this lucrative? This is perhaps why it is an exclusive club and the more reason   government agencies are looking the other way at a great cost to Nigerians.
Today, more than 90 per cent of petroleum products consumed in the domestic market are imported, usually at costs which naturally reflect international crude-oil prices. Diesel is a petroleum-based fuel that is used to power many types of vehicles and boats. It's made of a blend of crude oil components called hydrocarbons. The components for making this fuel are refined out of crude oil, usually by fractional distillation.
AGO demand is driven by Nigeria's inadequate supply of power to business places. Households, offices, eateries, banks, hospitals and government parastatals are spending millions and will still spend millions on AGO (diesel) consumption as the electricity supply situation is not likely to change significantly any soon, hence dependence on generators and mini-power plants will surge. While households, offices, eateries, banks, hospitals and government parastatals that depend on diesel to operate are being ripped off daily by the current sharp practices in the diesel racketeering, it is the ordinary Nigerian that bears the burden.
The amount being spent on diesel if reduced could induce companies to expand their operations and employ more Nigerians. The cost of operation in most of these companies is a fiscal drag on employment. Nigeria is currently facing a huge unemployment problem that every hand should be on deck to help solve. But the diesel merchants are only interested in their deep pockets.
A drop in the price of diesel will be a great relief to industries, household and the ordinary citizens. Cement Manufacturers have said again and again that bulk of their cost input is electricity generation. Those who still depend on diesel for power supply will have their cost reduced which will be reflected in the cost they eventually pass on to the final consumers. Households and eateries that use generators to power their operations will feel the impact of a drop in diesel pump price and will pass the benefit to the final consumer.
Following the crash of crude oil prices, the maximum indicative benchmark of open market price of the diesel is about N99.11 per litre as of today, going by the Petroleum Products Pricing and Regulatory Agency. Surprisingly, the price of the product in filling stations across the country is N165 per litre with PPPRA not lifting a finger about the price or raising eyebrows about the unwholesome trend.
The price of crude oil, which constitutes a major component in the pricing template, had plunged by about 60 per cent since June 2014 when it peaked at $115 per barrel. If Nigeria were a country where leaders walk the talk, diesel has been deregulated and ordinarily, if Nigeria were to have an organised government, since the price of crude oil has fallen by more than 50 per cent, the price of diesel is supposed to have fallen a long time ago to about N74 per litre.
Unfortunately, Nigerians are not getting the benefit of the so-called deregulation, and it also shows that the government agencies are not intervening in matters that touch the welfare of the populace except what benefits the ruling class.
If a government allows for certain measures to take place in its economy, it is also the duty of the government to make sure that it is not being abused. PPPRA, DPR, NNPC and the Ministry of Petroleum Resources are turning their eyes the other way because powerful Nigerians are involved, milking the people and donating to parties for political gains. Ordinarily, if there were laws governing the deregulation of diesel, even before the price of petrol was reduced diesel marketers should have been the first to reduce their prices."
There is nowhere in the world where there is absence of regulations. You don't just leave some things to the market completely. If you want to do that, then liberalise everything and you then protect the interest of the consumers.