By Qasim  Akinreti
In 1995, Conference of Muslim Organisations of Nigeria, CAMON, came into being through the efforts of about 28 Islamic organisations concerned Muslims in Ibadan, Oyo state. However in 1988, about 10 Muslim organisations now constitute the foundation members, CAMON.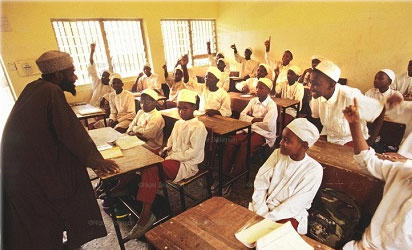 These are Muslim association of Nigeria,Ahmadiyya Muslim Jamaat, Ansar-ud-deen society of Nigeria,Anwar-ul- Islam of Nigeria, Nasrudeen Society of Nigeria,Alasatu Ibadu Rahman Ibadan, Islamic missionary society of Nigeria,Ahmadiyya movement of Nigeria, Railway Muslim Community, Federated of Muslim Women Organisation of Nigeria, FOMWAN,Oyo state chapter and Anobi Lonigba Molete, Ibadan. By 2013, ten more Muslim organisations signified intention to join CAMON. In line with their commitments, the Islamic organisations pay dues to CAMON to run its finances.
One of the first challenge of the organisation, is the ensure that Nigerian Muslims have access to scholarship for higher degrees to the PhD level. This was quite instructive as some leading members of the organisation like late Professor Abdul Rafiu   Sobulo- an Agriculturist, Late Professor Fatai Giwa- Physics don   and the life patron of CAMON, Honourable Justice Bola Babalakin, CON, JSC, found it in explainable that there are few Muslims academic in tertiary institutions in Nigeria. According to them, the state of the Muslim teaching staff in the University of Ibadan then was quite pitiable.
To address this challenge, the first set of five students at the Masters level from various Islamic organisations were urge to apply   for a PhD Scholarship at the University of Ibadan. Among this set, is Professor Abdul Rahman Abdullah, Department of Animal Science Babcock University, Ilishan Remo, Ogun state, he was presented by the Ahmadiyya Muslim Jamaat Nigeria.
As one of the success story of the brilliant initiative of CAMON, Professor of Animal Breeding and Genetics said "the offer of scholarship goes a long way to instil a sense of responsibility to the Muslim Ummah and Nigeria in general, though the money was small, but we are given a commitment that we will remain in the academic to contribute to the growth of the Nigerian education, assist Islam to find solution to the dearth of Muslim academics.
A year after graduation , I did not get a job, but that covenant put me in good pedestal of getting a teaching job as late Professor Sobulo assured me that I will get a job. When I finally does, he said don't be deceived by the toga of a PhD holder, you must work hard to a professorial position in record time. Then, I felt obliged to always get in touch with late professor Sobulo for inspiration and guidance".
CAMON, did not only give the financial assistance, strict monitoring was given to the scholars' on their academic progress. Again Professor Abdullah states "the report of academic performance from the supervisors really put me on tract, as a commitment to be an academic, it was really fulfilling. Professor Nurudeen Olorunnibe Adedipe, pioneer Vice Chancellor Of University of Agriculture Abeokuta, UNAB, who interviewed me for the scholarship, late Professor Sobulo and Professor Giwa were tracking my progress. At each assessment, they made to believe that as a Muslim scholar my contribution to humanity in this area of specialisation is immense".
In 2013 , 14 PhD students from four universities were given scholarships by the Conference of Muslim Organisations of Nigeria, CAMON. This brought to 77, the number of Muslim post graduate students offered scholarship .
Going by the breakdown of the scholarship scheme, there are 10 post-graduate students   from university of Ibadan; Mrs. Oladejo Mutiat Titilope from History department, Salami Dele – Forest Resource Management, Mrs. Balogun Modinat -Chemistry , Braimah Jafar –Zoology, Odetokun Ismail –Veterinary Health,Osuolale Kazeem- Statistics, Isola Tajudeen-Verterinary, Odunsi Saheed –Industrial Sociology, Yusuf Wasiu –Agric Economics, and Adewusi Sefiu Olakunle- Physics.