By Adekunle Adekoya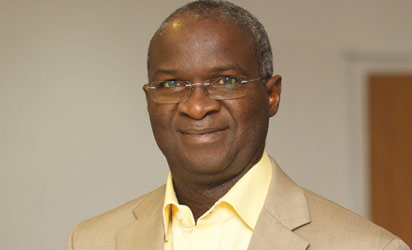 In 2006 when he emerged the favourite of Asiwaju Bola Tinubu, then incumbent governor of Lagos State, as well as governorship candidate of then Action Congress, not many people gave him a chance, least of all residents of the bustling metropolis of Lagos.
"Who is he? Where is he coming from? Where did Tinubu get this one from?"were some of the questions that greeted his emergence as AC governorship candidate.
As events would later show, his choice by Tinubu was not misplaced, as the duo would later be addressed by the sobriquets — The Pathfinder and The Actualizer.
Indeed, Fashola as the thirteenth governor of Lagos State had actualized many things. Some of them were quite ordinary; but the fact that people had lived with their impossibility for decades meant that they were not ordinary, afterall. Others were not ordinary, really. Take Oshodi, for instance. Here was a commercial hub in the heart of the city that everybody, residents and visitors alike dreaded — especially after 6pm. Oshodi was a snarling, twirling, gnarling hub of road and rail routes where traffic was permanently at a standstill as traders took at least half of the road on both sides to display their wares. If you add the spectre of daylight robbers, pickpockets and felons of various other descriptions, Oshodi was somewhere to tread with caution. But Fashola changed all that by clearing the traders from the roads and to make the place safer, emplaced a 24-hour security watch through a task force that ensured the place remained free for movement.
And then, the one that is not ordinary: he lit up Oshodi with halogen street lights that ensure that felons could no longer hide under cover of darkness to perpetrate their evil, and thus, Oshodi rejoined the rest of Lagos as a place people can use at any time of the day. In Nigeria's generator economy, that was quite a feat, since people no longer had to detour several kilometres just to avoid the Oshodi gridlock.
Making the traffic move in Lagos has been and still remains an issue, but the Fashola administration had emplaced measures, from strengthening LASTMA (started by Tinubu) to repairing existing roads and building new ones. The Lekki-Epe dual carriageway, as well as access roads linking villages and towns like Imude, Shibiri, Etegbin, Ajangbandi,Ilogbo-Eremi, Agboroko, and Igbo-Elerin roads are some cases in point, which had boosted the connectivity index of these communities.
Realising that Lagos metropolis had attained mega-city status, Fashola embarked on a metro project which incorporates a 10-lane carriageway starting from Iganmu to Badagry. Though the project, still in phase one may not be completed during his tenure, it is a start towards giving the city one of the features of a 21st century mega-city.
In terms of security, the achievements have been quite impressive. While the problem of armed robbery and sundry felonies still remain, Fashola moved to empower the Police Command in Lagos with funds mobilized and administered by a security trust fund. The fund had purchased operational vehicles and other equipment to the Police running into billions of naira. Nowadays, police patrols in glittering pick-up vans equipped with radios are common sight. If all the roads in Lagos are in top condition, it is a fair guess that the Police would make their presence felt everywhere
But it would seem that Fashola is an accomplished crisis-manager, as his management of two epidemics would testify. The first was bird flu, which his health officials managed adroitly such that the outbreak did not exert damaging impact on poultry business in the state. But by far, Governor Fashola's management of the Ebola crisis in Lagos was responsible for the nation's ability to contain the virus, an achievement that attracted global acclaim. The other state that also had a robust response to Ebola was Rivers, under Governor Rotimi Amaechi. In areas like sports, public health, education, water resources and others, the governor has made his presence felt by providing the necessary leadership.
As a result of an interplay of so many factors, buildings collapse quite frequently in Lagos. Managing this crisis has been tasking, but the Fashola administration had responded with a number of initiatives targeted at ensuring buildings do not collapse anyhow again. One of such is the materials testing laboratory, a facility where building owners and developers can certify quality of construction materials. Another is the setting up of the Lagos State Building Control Agency, tasked with conducting stress tests on buildings towards averting tragic collapses.
The list of the governor's achievements seem endless, but there is space for improvement. It is said that there are a little over 10,000 roads in Lagos State. 117 of these are said to be federal, more than 3,000 belong to the state government, while about 6,400 belong to the local governments. If the local governments are able to do their roads, perhaps everybody won't have to be on the state and federal roads, thus minimizing traffic jams. A major challenge of successive administrations has been in the area of providing potable water, despite the existence of a water corporation with a massive bureaucracy. Perhaps if the governor had tackled the reticulation of water supply infrastructure with greater zeal, maybe larger sections of the population, especially in the suburbs, will have access to treated water. For now, people rely mostly on wells and for those who can afford it, boreholes, for water. Improvement beckons, thus providing challenge for Fashola's successor. As the governor logs out in May, he will be signing out with a standing ovation.