BY JOSEPHINE AGBONKHESE
Generally perceived as weak, harmless, compassionate and possessing great value for human life (being givers of life themselves), female folks were believed to be at the receiving end of conflicts and wars which usually utterly reduce them to sex tools, cooks and cleaners in the hands men.
But that perception is changing rapidly in Nigeria with some members of this so-called 'weaker vessels' becoming accomplices to Islamist group Boko Haram in recent times.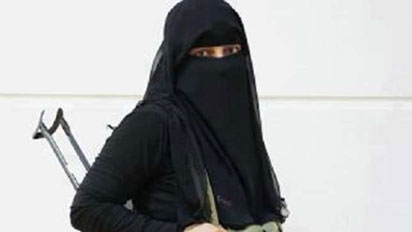 Since June 8, 2014, when Nigeria recorded its first case of female suicide bombing with a middle-aged woman arriving on a motorcycle at a military barracks in Gombe and detonating an explosive killing herself and a soldier, series of such have since followed.
It would be recalled that in same year, July 27 precisely, a teenage girl with an explosive device concealed under her veil(hijab) blew herself up at a university campus in Kano, injuring five police officers. Three other cases occurred separately within four days after that, killing nine persons and leaving 22 severely wounded. Some of those suicide bombers were surprisingly despicably girls!
More female suicide bombing                                                                      This chilling trend in terrorism is fuelling concern that the Boko Haram insurgency has reached a more hard-nosed phase because penetrating targets might now become easier since society is generally less suspicious of women. In fact, the use of women and little children is the easiest and most dramatic strategy any enemy could employ.
Just last weekend, when everyone thought it was time to unwind, news of three female suicide bombers, including one aged about 10, again jolted Nigerians. Two of them had blown themselves up in a crowded mobile phone market on Sunday in Potiskum, killing four people and injuring 21, while the Saturday bombing involving the 10-year-old reportedly killed at least 20 people in Monday Market in Maiduguri.
Who are these women, girls?
It is unclear who these female suicide bombers are. While some speculate they might include some of Chibok's abducted schoolgirls, others believe they are recruits motivated by religious ideology.
Some security analysts also suggest they are offsprings of Boko Haram members whose minds have been indoctrinated to believe the sect is waging a holy war and that its fighters will automatically make heaven.
The possibility of abandoned street children being recruited cannot also be undermined. Sadly, history is replete with gory tales of almajiris being easily lured into begging, thuggery and more.
Possible use of coercion
The possible use of coercion by the sect cannot also be dismissed as sensed by security officials and witnesses present at last Sunday's Potiskum suicide bombing. The second suicide bomber was said to have been terrified. She tried to dash across the road but the bomb strapped to her body immediately exploded, a sign that the bombs had been remote-controlled.
The pathetic case of the 10-year-old child cannot also be said to be voluntary.
Security analysts also believe older women may willingly become human bombs as they share the Islamists' radical ideology or are out to avenge the death of loved ones.
It would be recalled that three women said to be "female recruiters" for Boko Haram were arrested last July, while an alleged trainer of women bombers was also detained in Kano in August with up to 16 "trainees".
Security forces have since arrested more women and girls with explosive devices strapped around them.
Security challenge
Security situation automatically gets complicated when you have female suicide bombers on the loose. It is even more so when a society has to deal with harmless-looking women and girls religiously covered in hijabs which should identify them as 'holy'.
It also implies that female officers must be present at every checkpoint to search women. More so, this trend places a mark of distrust on every woman, whether little, young or old, wearing a hijab.