By Lari Williams
The Nigerian Entertainment Industry could have been Nigeria's most lucrative asset if accorded proper interest.
Improper handling is making the nation loss trillions of naira every year. "Stage and Screen" has played this tune several times trying to attract government's attention to listen and react or least find out how art can rebrand Nigeria and attract national and foreign currency into our coffers. Instead of celebrating our dips into the oil wells, lets invest in the pools and streams of the sweat flood of the cradle of artistic creativity.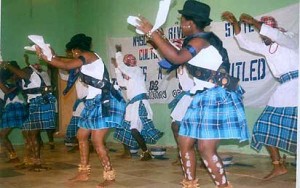 The Nigerian Sculptors, Fine and Graphic Artists, Photographers, Writers, Film makers, Musicians, Dancers and Actors are busy swimming in their own sweat, creating and producing only for the local market. The world arts market admits skills with sophisticated and good packaging, the world indeed as a global village should be the showcase of our artistic goodies.
The Minister for Arts can persuade the President to include a yearly Arts exportation to the duties of our Ambassadors in the various countries in addition to their crowded dinner parties.
A good diplomatic smile and handshake can arrange, yearly exhibition of our art works. Dance, Drama, Sculpture, Photography etc. every Ambassador could organize different programmes every year.
The world will be too small for our arts market; our creative artistes will then be having good rapport with the central bank governor and other banks as they contribute to the Gross Domestic Product (GDP)
WHY DO WE VOTE?
We vote to fulfill our civic duty and elect representatives to nurture our nascent democracy, to express our opinion in setting up a democratic government where we build the government by the people, to serve the people.
The first Law in nature is self preservation in which we carve our identity and style so as to retain and build a culture of a people in today's world, nay, global village, nations have become their brother's keepers and aggressors are not too free to colonize by guns and bombs any more. They do a more thorough job by destroying the culture of their victims and imposing theirs in the name of civilization development or sophistication, all of which are components of the invader's style of total extinction and social enslavement.
Nigerian artistes, I mean true Artistes, Sculptors, Musicians, Writers, Dancers, Actors, Film makers, Painters and Graphic artists must vote for the survival of our culture and nation for the continued existence of our people.
We cannot vote for the sale of our culture and style. To sell off the priceless hallmark of our great possession, the magnificent Bulgarian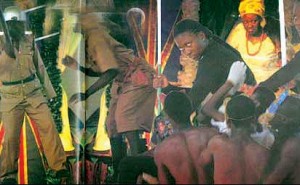 masterpiece marked to showcase our artistic history because we cannot run it as a theatre. Instead we can establish theatre culture like other countries. Though theatre and performing arts are social services when well developed, they become big money spinners.
America had its hands filled when theatre grew into movies. Theatre in America spread from Broadway, to off Broadway and to off-off Broadway and making so much money from sales of tickets from theatres fully booked everyday.
Plays run in one theatre auditorium for years before they are made into screen plays. Actors live like Kings from their fat fees. Actors' dignity has made Presidents.
It is a shame that the world has left us behind because we engaged in a rat race instead of ensuring and preserving the dignity of a people and our race through our Arts.
As the pioneer President of the Actors Guild of Nigeria (AGN) and having lectured Acting in three Nigerian Universities and for 27 years writing a column on Arts overview in a national newspaper and made a record appearance on stage and television as an actor, accorded national honours, of the Order of the Federal Republic of Nigeria (MFR) feel totally deflated that the government has refused to listen to us.