By Esther Onyegbula
Ikorodu, a city located along the Lagos Lagoon, is again in the news following ongoing investigation by operatives of the Homicide section of the Lagos State Criminal Investigation Department,SCID, on the alleged murder of one Damilare Ayodele, a resident of Itokin, Imota,by four persons who confessed to be members of the Aiye confraternity .
This is not the the first time cultists would go on rampage in the area , leaving in their trail death of members of opposition groups as well as innocent residents.
In this case, Crime Guard gathered that the bullet ridden body of Ayodele, was found along the street in Itokin community, on November 4, 2014, a tragedy that left his family devastated.
It was gathered that Ayodele was attacked by members of Aiye confraternity group while returning home penultimate Sunday and abandoned in the pool of his blood while his assailants fled.
It however, took the combined efforts of local vigilante and a team of policemen from Imota to arrest four suspected members of the cult group, a week after the incident.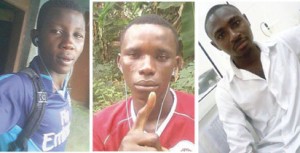 In this interview with Crime Guard, the suspects; Emmanuel Eguku (23), Hoteyin Oladeji (29), Adefemi Oladega, 24; Odukoya Deji 23; and Emeka Ekunjoku, admitted to be part of those who launched an attack on Ayodele. They disclosed, to the astonishment of everybody around, that they were on a mission to send the deceased, whom they alleged belonged to a rival cult group, and his members to eternal rest.
Reason? They alleged that the cult group of the deceased, Eiye confraternity, had been terrorising Imota community for long. As if the molestation was not enough, they said that the cult group ambushed their members and inflicted severe injuries on them.
Reprisal attack
describing the attack on their members as an affront, the suspects said they resorted to carry out a reprisal attack. One of the suspects, Emeka Ekunjoku, told Crime Guard that they spent over four hours in the bush to plan the reprisal attack
According to him: " We were on a mission to kill members of Eiye group, which Damilare Ayodele belonged. We took that decision because Damilare and members of his group previously attacked our members.
During the attack, we narrowly escaped being killed. Some of us had to flee our homes for weeks. They unleashed mayhem on our community, burnt houses and also destroyed properties.
In order to deal with the issue, members of our group met in the bush around Imota community that Sunday , where we spent over four hours strategising on how to carry out the attack. We had to launch a reprisal attack otherwise they would continue to attack innocent people in the community"
I pulled the trigger When asked who pulled the trigger that snuffed life out of Ayodele, another suspect, Emmanuel Eguku(23) , said in a low tone, " I did" . He paused for a while,looked away from this reporter and continued: " When we left the the meeting place, the first member of Eiye cult we met was Damilare Ayodele. On sighting us, he attempted to run but I shot him. We left him and went to our respective abodes. We did not know how the Police got wind of our culpability.
We would not have killed him had his members not attacked us first. Our cult group, Aiye (Black Axe) is considered the strongest around the vicinity but they dared us", he said.
Residents lamentation
On arrival at the sleepy community, none could offer the needed explanation when approached.
An elderly woman beckoned on this reporter and offered this explanation : " Everybody keeps mute because you don't know who is who. Activities of cultists in this community have made the area restive. It has become an alarming situation, as no single week passes by without a cult clash in Ikorodu. At the sight of the Police, the cultists would take to their heels. Some people have even relocated because of the incessant supremacy fight.
"As for the late Damilare Ayodele, his father was in church when someone rushed to call him that his son's corpse was lying on the ground. You can imagine how the life of that young man was cut short. That is one out of many lives that have so far been lost in cult wars"