We are force by conviction and the circumstances to vote for survival. We are allowed existence in the past, sustained by what the colonial masters called "beggars licence" which allowed artist to perform (entertainment) for peanuts or dash to beggars. That mentality was carried along by governments thereafter.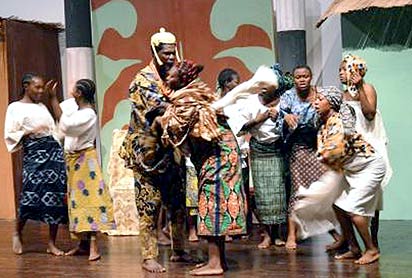 It is time for a change to build a structure and proper guideline for the establishment of an entertainment industry. With a broadbase large enough to establish our own broadway. Let build a phenomenal bucks box office just like Americas second highest bucks earner.
Americas stage is booked ahead so regularly. It grew from broadway to off broadway and "off off " broadway and booked ahead everyday
It sad, if after 60 years of inheriting the proscenium theatre style and its commercial entertainment ability we cannot find Nigerians that can run the theatre, even with government subvention, until we can spread and build "Theatre Tradition".
Theatre for every culture nation is a necessity, so every government should invest adequately. All government parastatals,banks and telephone companies should make due contribution to build the nation.
The Arts should stand its own grounds as a ministry but run like the military. established, recognized and identifiable artist should be granted retirement benefits not "lifetime Achievement Awards" on plagues and certficates, without financial backup.
Who Do We Vote?
Promises don't sustain a dying people. A tribe of professional artistes contained in the village generation of decades of practice is about to die off without passing their knowledge and entertainment pleasure to the generation to come.
Selling the National Theatre Complex to the Arabs will devastate Nigerias arts life and uproot the moral fibre from the people.
Nollywood needs to be fed from stage, you dont learn acting from front of camera. If Nollywood is doing well with "ten takes" for "a take", then it needs more trained actors to build the screen.
By the way, even if the T.V screen is doing well, it requires the stage to boost its flight. No bird can fly with one bald wing. In fact the entertainment industry cannot grow without the stage. An Arts ministry will equip and educate the tourism industry. Tourist should not come to Nigeria to see Arab style malls that will showcase Arab own goods and style at the choicest environment where we should be entertaining; and our cultural endowments displaying our wealth of culture to the roving guest in need of knowledge and our lifestyle.
We want to vote and hang our hopes with positive expectations. As it is, our past has not been remembered, our dead have been forgotten. With the archives of their works lost or destroyed.
Our present is hanging on
the balance like the "puppet on the string" with the sword of Damocles hanging over their lives and no bright light shining from the other end of the tunnel.
Now we face the story of doom, the only "artist village" in West Africa, thanks to the foresight and a streak of creative thinking from the officers of NCAC, the National Council for Arts and Culture for making the empty offices available to recognized artists to occupy.
In fact, we still wonder why Mr President's bonanaza is not accessed through the Arts council, instead of the secrecy of chipping out to individuals who manage to catch the authority's favour.
No new or directives have reached the general forum of artists. All I can remember is that I wrote an open letter to the President published in no less than five national dailies. The thank you letter carried a suggestion to build a Hall of Fame which will give work to hundreds of artists, sculptors, fine and graphic artist, photo journalists, film makers etc. To ensure the past is remembered and preserved to aid orderly and inform tourists.
Also to build training institutions to train artists instead of wasting money and time training unemployable graduates of Theatre Arts in Universities. Of the twelve known universities offering acting course, we have not noticed twelve star actors in a year.