By Evelyn Usman
The Yuletide season is here again, with preparation towards its celebration on top gear. Most people around the globe are basking in the euphoria of the celebration of one of the most celebrated season, Christmas!
While everyone, particularly children look forward to it with great expectation, unfortunately, same may not be said for residents of Ikotun and Igando areas .
This is because they reportedly received a letter from men of the underworld recently, informing them of their unprecedented visit during the season. Part of the letter which was pasted by an unknown persons and at an unknown time, read: "Be prepared, be prepared, be prepared. Our dues must be paid this festive season. Nobody can stop us as we can strike at any time.
Enough money
"Only enough money can save your life. To be forewarned is to be fore-harmed. We have warned you in this area, and if you have ears, you ought to hear."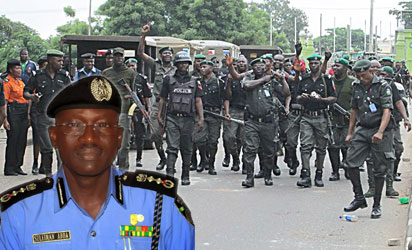 This is however not the first time these unscrupulous elements would be sending letters intimating residents of their uninvited visit. Same was witnessed in the densely populated Ajegunle area sometime ago by a notorious armed robbery syndicate who went by the name one million boys. In this case, the gang which had over a hundred persons as members usually storm several streets as informed and carrying out a building-to-building raid, dispossessing residents of cash, and other valuables.
In one of the raids , a resident reportedly had one of his fingers chopped off with a cutlass by one of the robbers, over his inability to provide them with cash.
Leader of the gang was quoted as saying: "So you think we are joking when we wrote you? You want to dare us, isn't it? You did not leave at least N20,000 at home. Even your phone is as good as useless. I am going to cut off your ears for not heeding our warning."
Report had it that as the
armed man was about to use his cutlass on the fear stricken retiree, he blocked it with his hand and had one of his fingers chopped off in the process.
The mere mention of one million boys sent cold shivers down the spines of residents of Ajegunle. Report had it that the gang even unleashed terror on some residents of Festac until its wings were clipped by men of the Special Anti Robbery Squad.
During the onslaught against the gang, over seventy suspected members of the gang were arrested , with some of them reportedly killed in shoot-outs with policemen during operation.
A visit to Igando
When Vanguard visited areas around college bus-stop , Ikotun road , where residents were said to have received the letter. Most of them refused to speak on the letter, apparently out of fear. While some of them carried on with their normal life, others were reportedly contemplating to travel to their respective home towns until the Yuletide is over. But again, some of those who contemplated travelling are said to be constrained by finance.
Again, while some of them called the robbers threat bluff, others as gathered, kept tangible amount aside, preparing for the worst.
A Policeman under area 'M' said they had received the complaints but boasted that the command was equal to the task. But the Lagos State Commissioner of Police, Kayode Aderanti, described report of the robbers letter as mere rumour. He however intimated that policemen had been deplored to the area.
Police sources further stated that aside Ikokun and Igando areas, both foot and vehicular patrol of policemen would be observed in major areas in the state.
Concentration and
surveillance as gathered would be centred on hot-spots which included areas like Ajagbadi, Ajegunle, Ojuelegba, Mushin, Ojota, Ketu, Marine beach, Ikorodu, Maza-Maza, Egbeda, Ajah, Ijora Badia, Ijora Olopa, Idi-Ara, Yaba, among others.
Also attention will be centred on public areas such as parks, worship centres and recreation centres.
According to police sources: "Lagos has always been known to take security of lives and property of its citizenry serious.
As from next week, the CP will be deploying policemen to areas considered as hot zones. Already, policemen in plain clothes have been stationed in motor parks and other public places. It is a round the clock surveillance"
One of the measures put in place to ensure a hitch free Yuletide was the recent ban of fire works by the command's boss during Yuletide.
Police sources hinted that the ban was in the interest of Lagosians, adding that "we have had instances where robbers would be operating and the gun shots will be mistaken fire works.
Public safety
Threatening to deal with whoever flaunts the directive, the CP in a statement signed by the command spokesman, Ken Nwosu, explained that the ban was declared with a view to ensuring public safety and also to avert all manner of dangers associated with its use during harmattan season.
The statement read : "The state Command wishes to inform the general public that the use of fireworks is banned. Parents are therefore advised to warn their wards to desist from its use to avoid being caught on the wrong side of the law as defaulters will be punished "
While wishing Lagosians a warm Christmas celebration, Aderanti, however, assured them of the command's commitment to ensure their safety during the season.
The enthusiasm for a remarkable Yuletide celebration by Lagosians is obviously high , as it is hoped that the command will as other times keep its bargain.