An amazon who passionately strives for excellence in whatever field she steps into, Evelyn Okere has always had a knack for fashion and even her long years in the banking and telecommunication sector could not take that away. A long history of reading fashion magazines and following stylish trends saw to the creation of her fashion label, Rose di Omimi, in 2009. Evelyn who is also currently the Executive Director of Finance and Administration at Jevkon Oil & Gas Limited is co-founder and Managing Director at St. Eve Concepts Limited, an enzymatic health therapy/weight management company in Lagos. Enjoy our chat with her.
You have been organising beauty and fashion shows within and outside the country, with another one coming up this month; what's the inspiration?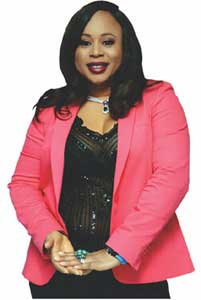 I love fashion and I am very passionate about blending health, beauty and fashion. Fashion is a trend that evolves and revolves everyday. Since I was a kid, I have always loved creating new trends and making new fashion statements. So it's a passion I have always had. About the fashion show, I had one last year. It was the maiden event which was tagged "Fashion on The Terrance".
This year, we are taking it a step higher and expanding our opportunities by calling it "St. Eve West African Fashion Week" and the event is tagged "Fashion in the Savannah". It will be taking place on the 13 and 14 of December, 2014, in Lagos.
You also run a wellness outfit, what's the attraction and how do you combine this with fashion?
Yes, this is because I believe so much in enzymes. You see, they help in the breakdown of foods in the body. They are very potent and help in health improvement. Enzymes particularly provide nourishment to over 100 trillion cells in the body, thereby providing energy for our system because a malnourished cell will eventually malfunction. That was what inspired my enzyme health therapy/weight management company.
We use these enzyme supplements to achieve weight loss for clients. Many of our clients have countless testimonies of the success of these enzyme supplements.
Having worked in the banking sector, telecom and your present status, as a woman, do you consider venturing into politics?
Yes. I can decide to go into politics. In the past I have assisted and supported several market groups and traders resolve some challenges they had with state government at that time. It is something I can do but before I make that decision I would have to pray about it and discuss with my husband and members of my immediate family.
Sometimes it is not easy to build a business empire, what has been your experience?
Indeed, it is tasking for women, especially if you are starting from the scratch to build a business/brand or career. The big banks do not support small-scale businesses but women always have a fighting spirit and they always succeed in anything they set their mind to.
Subscribe for latest Videos