*says Nigeria has no business with poverty
By Levinus Nwabughiogu
ABUJA – The presidential candidate of All Progressives Congress, APC, General Mohammadu Buhari,  Wednesday, formerly presented his running mate, Prof. Yemi Osinbajo.
At a brief ceremony held at the national secretariat of APC in Abuja to publicly unveil Osinbajo, Buhari stated he chose Osinbajo as his running mate based on his impeccable integrity.
He stated that the process of choosing his running mate was both meticulous and rigorous.
"The challenging process of rescuing our country and changing Nigeria for good has commenced. One of the first decisions that I have to make is the choice of the Vice-Presidential candidate and my running mate.
"The method employed in this choice was quite meticulous but yet rigorous. It involved the establishment of objective criteria, broad consultations with party leaders and a few opinion leaders outside the party and interactions with a number of nominees.
"To assist me in this great task of securing Nigeria's future, I have chosen a man of unimpeachable integrity, an excellent professional, a man of faith, a devoted family man and a role model to our fellow countrymen and women. He is a professor of law and a Senior Advocate of Nigeria. An alumnus of the University of Lagos and the London School of Economics. He is a prodigious author who has to his credit several books on civil procedure in Nigerian superior courts.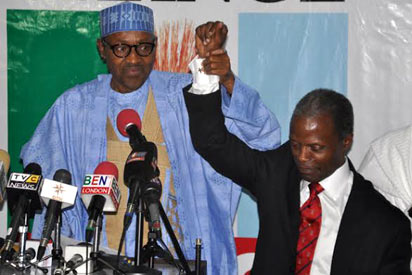 "The Vice-Presidential candidate is a friend of the less privileged, compassionate and zealous in service. A man of uncommon humility, a loyal, dependable and selfless patriot.
"Ladies and Gentlemen, I present Prof. Yemi Osinbajo, who by the grace of God and the vote of Nigerians will be the next Vice-President of the Federal Republic of Nigeria," Buhari said.
In his acceptance speech as a running mate, Osinbajo expressed gratitude to Buhari and the APC for finding him worthy to serve.
He pledged to work with Buhari and the party if elected into office to restore the hope of Nigerians.
He said: "I am deeply honoured and grateful to have been nominated as the Vice-Presidential candidate of our party, APC and especially the Presidential candidate, General Muhammadu Buhari.
"I also thank the leaders and elders of our great party, APC for the trust reposed in me.
"The task of rebuilding this nation is one to which I am fully committed. There can be no other President, Leader and commander that can lead that common sense revolution Nigeria urgently needs than General Muhammadu Buhari. I will proudly serve this country with him.
"General Buhari's uprightness and fierce commitment to good governance is well known. It will be a privilege to work with him. I come to this assignment with lots of hope and a resolve to be a part of this movement to bring Nigeria back to its lost glory. With the support of all Nigerians and the help of God, we shall make Nigeria work again.
"I will work with him and the party to restore hope and confidence in millions of our youth and provide comfort and security for millions of our country men and women.
I thank you all".